Abe Suffers Okinawa Election Defeat Over New U.S. Base
(Bloomberg) -- An opponent of the construction of a new U.S. Marine base on the southern Japanese island of Okinawa won election as governor Sunday, beating a candidate backed by Japanese Prime Minister Shinzo Abe's ruling coalition.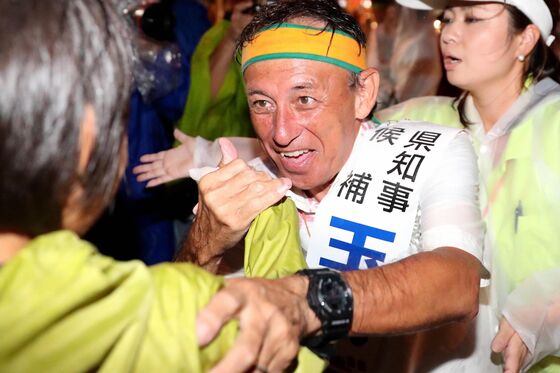 Denny Tamaki -- the son of a U.S. serviceman and a Japanese mother -- claimed victory over Atsushi Sakima in the closely watched race. Tamaki opposes a government plan to build a new military facility, enabling the closure of the Futenma Marine base in the center of a densely populated city.
National broadcaster NHK showed a beaming Tamaki wearing a traditional floral shirt and dancing alongside his supporters as the results came in.
"What the Okinawan people cannot accept is the construction of the base at Henoko," he said, referring to the new facility. "I will urge the government to go along with the feelings of the people."
While media opinion polls had indicated the result might be close, Tamaki won 55 percent of the vote, compared with 43 percent for Sakima, who was supported by Abe's ruling coalition. Tamaki was known as a radio personality and then opposition lawmaker before running in the election in one of the country's poorest regions.
Many in Okinawa, which hosts about half of the 50,000 U.S. military personnel in Japan, want the base moved off the island, or even out of the country. Local residents have complained of crime, noise, pollution and accidents associated with U.S. bases. Protests have hampered construction at the new site for 20 years.
"From the government's point of view, there is no change to our thinking on quickly moving the facility to Henoko and returning the Futenma air base," Chief Cabinet Secretary Yoshihide Suga told reporters, adding that he would like to meet Tamaki if their schedules permit. Abe himself said the administration would take the result seriously and seek to alleviate the burden of the bases on Okinawa.
Japan, whose own military is restricted by a pacifist constitution, relies heavily on the U.S. for security in a region that includes China and North Korea. Abe's ruling Liberal Democratic Party sees the delay to the base project as a risk to the alliance.
The result deals Abe an early setback less then two weeks after he won a third straight three-year term as LDP leader. While Abe is a step closer to becoming the country's longest-ever serving premier, he must juggle trade tensions with U.S. President Donald Trump and an ambitious agenda to push through a number of contentious economic reforms.
"The Abe administration seem to be very shocked and this is definitely a blow," said Yu Uchiyama, a professor of political science at the University of Tokyo. "This means that it's harder to map out a solution to the Henoko problem," he added. "It makes Abe's agenda harder to achieve."