Japan's Abe Calls on South Korea's Moon to Push for Better Ties
(Bloomberg) -- Japanese Prime Minister Shinzo Abe called on South Korean President Moon Jae-in to initiate efforts to improve ties between the neighbors, just days after the two met and decided to tone down a feud that had sent relations to new lows.
Abe said in an interview Friday with an affiliate of TV Tokyo that he wants to improve ties and believes Moon feels the same way.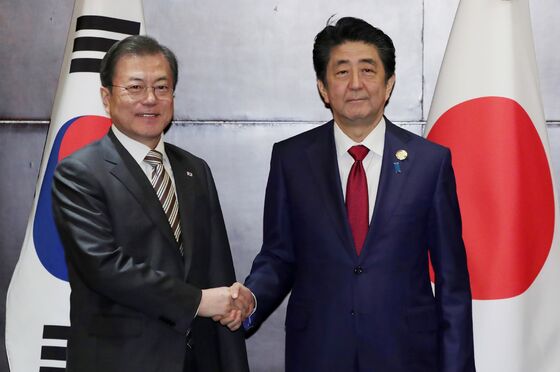 The comments come after a landmark summit this week where the leaders signaled they wouldn't let relations spin out of control even as they made little progress in resolving disputes that have hurt tourism, trade and security relations between the two U.S. military allies.
The feud, which worsened over the past year, is rooted in disagreements over whether Japan has shown sufficient contrition for its colonial 1910-1945 rule over the Korean Peninsula. The fight has raised concerns about global supply chains and whether Tokyo and Seoul could cooperate with Washington as it seeks to put a check on China's military expansion in the region and curb North Korea's nuclear ambitions.
Abe also said his government's decision Friday to dispatch a Self-Defense Forces ship to waters close to a Middle Eastern flash point was a way for Japan to contribute to safe naval passage in an area from which it receives almost all of its oil imports.