Japan Post Bank Tumbles Most on Record on Weak Forecast
(Bloomberg) -- Japan Post Bank Co. plunged by a record in Tokyo on Monday after it forecast profit that missed analysts' expectations, failed to give guidance on dividend payments, and booked paper losses on some investments.
The shares dropped as much as 15%, the biggest intraday decline since the company was listed in 2015 as part of a privatization process. The postal bank expects net income will fall about 27% to 200 billion yen ($1.9 billion) in the year ending March 2021, it said Friday. Shares of the parent company also fell, sliding as much as 10%.
"This is a negative surprise," Masahiko Sato, an analyst at SMBC Nikko Securities Inc., wrote in a note to clients. He said most market participants had expected profit would be around 280 billion yen this year, which is line with the bank's own midterm target.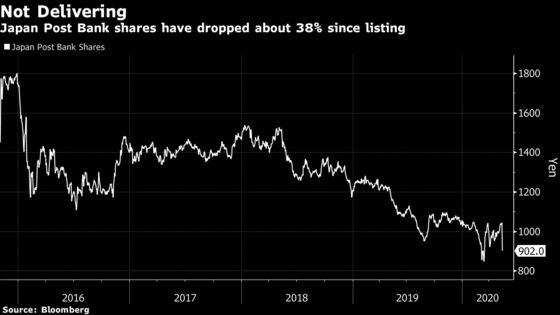 The outlook for lower profit is likely to raise concerns about whether the bank can keep its dividend payment, said Rie Nishihara, an analyst at JPMorgan Chase & Co. "Even if the bank can achieve the net profit guidance, the payout ratio will rise to around 95% from 68.5% last year," she said.
Read more on Japan Post Bank's CLO plans after paper loss
Paper losses on the bank's securities portfolio were also a concern, according to Nishihara. Japan Post Bank, the nation's biggest holder of domestic savings, has been increasing investments abroad to make up for rock-bottom interest rates at home, making it more vulnerable to global financial-market moves.
The company reported 121.9 billion yen in unrealized losses on overseas collateralized loan obligations last quarter amid the coronavirus-fueled market turmoil. Still, it will keep adding to its CLO holdings, Senior Managing Executive Officer Hiroichi Shishimi said.