Japan Seen Missing Paris Target With Latest Climate Pledge
(Bloomberg) -- Japan won't meet goals consistent with the Paris Agreement under its latest climate pledge, according to environmental groups that were critical of new targets announced by Prime Minister Yoshihide Suga Thursday.
The country aims to reduce greenhouse gas emissions by 46% by 2030 compared with 2013, Suga said before the global climate summit hosted by U.S. President Joe Biden. The world's fifth-biggest polluter needs to cut emissions by at least 60% by 2030, to keep average global temperatures from rising more than 1.5 degree Celsius from pre-industrial levels, according to Greenpeace.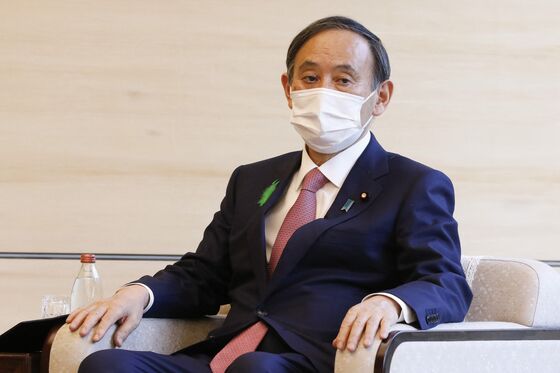 The revision comes after Suga pledged in October that the world's third-biggest economy will become carbon neutral by 2050. The U.S. is pushing some of the world's biggest emitters of greenhouse gases to more aggressively curb pollution.
"Responding to climate change will be a driving force of Japan's economic growth," Suga told reporters in Tokyo. "As a country that supports the world's manufacturers, we would like to lead the global discussion by setting an ambitious goal."
While not an official goal, Suga said that Japan will challenge itself to reduce emissions by 50% by 2030. The country had previously targeted a 26% reduction. A group of more than 170 businesses have called on Tokyo to set a domestic emissions reduction target of 50% and above by 2030.
"This is a significant step in the right direction, but still not sufficient," Kimiko Hirata, international director of the Kiko Network, a non-profit environmental group, said in a statement. Japan needs to keep pace with emissions cut targets in the U.S. and the U.K. and "exit from coal-fired electricity by no later than the end of this decade," she said.
The new emissions reduction goal will require Japan to double renewables, Environment Minister Shinjiro Koizumi said Friday, according to Kyodo News. Shares of some Japanese green-energy firms advanced with renewable operator Renova Inc. rising as much as 6% and real estate and clean energy producer Ichigo Inc. rallying as much as 7.7%.
Around 40 nations joined Biden's virtual climate summit Thursday and Friday. The White House pledged to halve emissions of greenhouse gases by 2030 from 2005 levels and double climate aid to developing nations
Japan will need to accelerate the expansion of renewables and restart all of the nuclear power plants idled after the 2011 Fukushima meltdowns to meet Suga's 2050 climate target, some members of a government panel studying how to decarbonize Japan's economy have concluded.
"The government will provide support measures to maximize utilization and investment in zero-carbon power sources, such as renewables," Suga said. "I will task each ministry to accelerate considerations on how to tackle this."