Japan Power Prices Extend Rally Amid Scramble to Dodge Shortages
(Bloomberg) -- Japan spot power prices extended a historic rally rising to a record for a sixth straight session Thursday as officials for the first time ordered generators to boost output to maximum capacity to avert a shortage.
The mandate from the grid operator is one of the strongest steps to secure the nation's electricity supplies since the 2011 Fukushima disaster that crippled Japan's nuclear fleet. A cold blast sweeping across North Asia along with dwindling liquefied natural gas stockpiles has resulted in a power supply crunch across the region.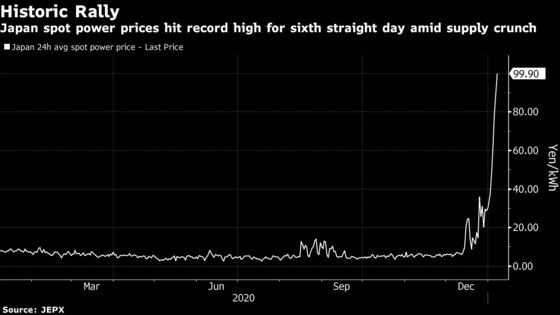 The 24-hour average spot electricity price for next-day delivery jumped 11% to 99.9 yen ($0.97) per kilowatt-hour on Thursday, according to the Japan Electric Power Exchange. That's the highest level since trading started in 2005.
Limited supplies and higher energy costs may have a greater economic toll if colder temperatures extend through January, although restrictions to curb the Covid-19 pandemic could help offset demand. In China, some local governments cut power to industrial and commercial customers amid plunging temperatures from December to ensure sufficient supplies for households.
Japan's Organization for Cross-regional Coordination of Transmission Operators said Wednesday operators in the Tokyo and Kansai regions should maximize output in the two days through Friday and excess supplies should be offered on the country's spot power exchange.
The nation's government isn't considering asking businesses and households to reduce electricity consumption for the time being, according to an official at the Ministry of Economy, Trade and Industry. The country is set to declare a state-of-emergency in Tokyo and surrounding regions from Friday in an effort to slow the spread of the coronavirus.
Asia Power Crunch
S. Korea to Release State Kerosene Reserves If Shortage Persists
A unit of Tokyo Electric Power Company Holdings Inc. will receive power from a number of companies with private power generation to help ease the crunch, while some customers have agreed to reduce consumption, according to spokesman Sou Terauchi. Tepco had asked companies, such as steelmakers and refiners, to provide them with electricity, the Nikkei reported Wednesday.
JFE Steel Corp. said it will provide Tepco with electricity, while the Nikkei reported that the utility also made requests to Sumitomo Chemical Co. and ENEOS Holdings Inc.
Kansai Electric Power Co. has asked a number of companies with power-generating assets to increase output and supply electricity to its grid subsidiary, according to a spokesman. The utility hasn't yet started asking for its customers to lower consumption.
Tepco's grid area is forecast to have 19% worth of power reserves during the peak demand period on Thursday, while Kansai Electric Power Co.'s area is seen having 4%, according to data compiled by OCCTO.