Japan's Inflation Creeps Up Again, Fueled by Energy Prices
(Bloomberg) -- Japan's most closely watched gauge of inflation edged up again in September with the help of costlier energy to tally with Governor Haruhiko Kuroda's latest view that consumer prices are rising at about half the pace targeted by the central bank.
While Kuroda has taken a more bullish view on the current strength in inflation, economists said the latest data offered little beyond the gains in energy and food prices to suggest that inflation can make major progress in the near term.
Energy prices rose 8.1 percent from a year earlier, contributing more than half of the overall movement in consumer prices excluding fresh food in September. Unless domestic consumption can maintain the improved pace seen in the April-June quarter, it's difficult to see prices gaining more momentum, said Kengo Tanahashi, an economist at Nomura Securities.
Consumer prices, excluding fresh food, rose 1 percent in September from a year earlier, matching a consensus estimate.
Stripping out fresh food and energy, prices climbed 0.4 percent, also in line with consensus.
Overall prices gained 1.2 percent, compared with a 1.3 percent estimate.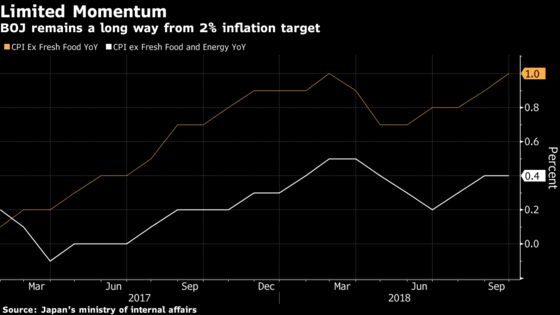 What Our Economist Says...
Price growth of 1 percent is as far as core inflation is likely to go this year, since inflationary sources remain limited outside energy and import prices. That means the BOJ needs to maintain its stimulus. "We'll be looking at Monday's Financial System Report for signs of strain from the extreme easing. That could shed light on whether further adjustments to the policy framework may be needed going forward."

--Yuki Masujima, Bloomberg Economics

For more see our JAPAN REACT.
Kuroda himself said in a Bloomberg interview last week, that the critical element needed to drive inflation toward 2 percent is higher pay that can fuel consumption. Still, his view that inflation is now stronger at around 1 percent compared with the BOJ's official 0.5-1 percent view, suggests the central bank may raise its assessment of inflation when it meets at the end of the month to review its price projections and decide on policy.
Yet, given the risk of inflation softening again, Kuroda might have gotten a bit ahead of himself by talking up the current strength of price growth, said Takeshi Minami, chief economist at Norinchukin Research Institute.
"The BOJ is still trying to influence expectations so Kuroda probably wants to use the most bullish language he can whenever possible," he said.