Japan Household Spending Rises Most in Three Years in August
(Bloomberg) -- Japan's base pay and household spending both rose by the most in years in August, adding to signs that consumers are beginning to feel the nation's economic recovery.
Highlights
Household spending rose 2.8 percent in August from a year earlier (forecast 0.1 percent), the biggest jump in three years
Labor cash earnings rose 0.9 percent in August from a year ago (forecast 1.3 percent).
Real wages, which are adjusted for inflation, dropped 0.6 percent (forecast 0 percent).
Base pay climbed 1.4 percent over the year, the biggest rise since 1997
With business spending taking off, consumers have been the missing link in the self-sustaining recovery sought by the Bank of Japan. Consumption has remained soft even as the tightest labor market in decades has driven modest wage growth. Bigger pay raises this year are expected to help but households also face fresh challenges, including higher oil prices and a further decline in the yen, which makes imported goods more expensive. A series of natural disasters is also likely to drive prices of fresh foods higher.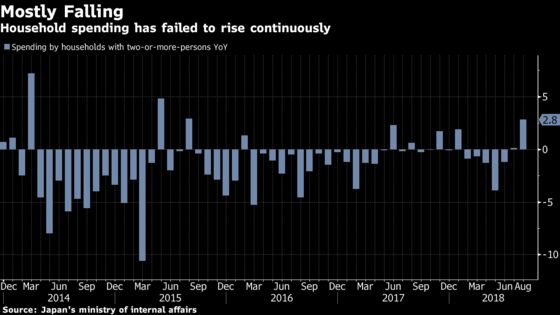 Household spending was surprisingly good given the poor weather in August, and indicates that a miniature "virtuous cycle" of rising pay and consumption is taking hold, said Hiroaki Muto, chief economist at Tokai Tokyo Research Center.
"Of course the BOJ wants a much bigger version of this positive cycle, but we're seeing a miniature version of it now," Muto said.
"The rise in household spending seems too good to be true," said Takeshi Minami, chief economist at Norinchukin Research Institute. "We should be cautious about making the judgment that consumer spending is starting to accelerate. We should wait to see more data on how bad weather and hot temperatures affected consumer spending."
"But overall today's data offer another sign that the impact of the very tight labor market is finally raising wages and underpinning consumer spending," Minami said.