Japan GDP Shrinks More Than First Reported as Shoppers Pull back
(Bloomberg) -- Japan's economy shrank at a faster pace than first estimated as shoppers cut back further during summer's Covid surge, a sign of the heightened risk now facing the recovery should the omicron variant spread.
Gross domestic product contracted an annualized 3.6% in the three months through September, revised figures from the Cabinet Office showed Wednesday. Economists had expected a 3.1% overall slide, compared with the government's initial 3% estimate.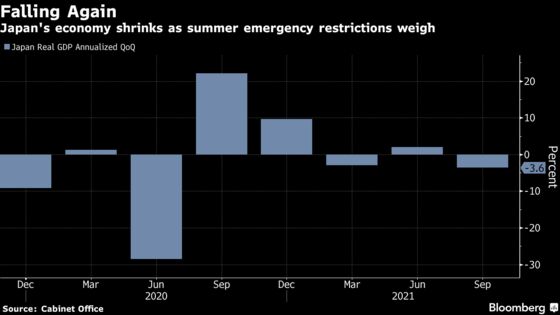 While the revised data showed business investment wasn't as weak as initially reported, a steeper fall in consumer spending is potentially worrisome because it suggests virus risks may have deterred shoppers more than first thought. 
More people have been venturing out and spending since Japan lifted emergency restrictions on activity at the start of October, but Prime Minister Fumio Kishida must now keep it going amid fears over the new omicron variant. 
Meanwhile, supply chain issues that have hit exporters, the country's traditional growth drivers, have only made consumers more important to the recovery. So far, economists are expecting 5.4% annualized growth for this quarter.
"Given the rise in prices and the new omicron variant, there's uncertainty over the outlook," said economist Harumi Taguchi at IHS Markit.  "If those developments become more prominent the fourth quarter recovery in consumption may be weaker than we'd presumed."
GDP details:

Private consumption fell at a non-annualized pace of 1.3% from the previous quarter; initial estimate was -1.1%
Capital spending dropped 2.3% vs. initial estimate of -3.8%
Japan has reported some of the lowest Covid-19 cases in the developed world in recent weeks, but Kishida has vowed to be careful in his approach toward the virus. His quick decision to close Japan's borders to new entry by foreigners has met an almost 90% approval response according to a poll conducted by the Yomiuri newspaper.
With that support, Kishida may be keen to reintroduce domestic restrictions if the new variant spreads, a move that might hurt a still vulnerable recovery. 
What Bloomberg Economics Says...

"The omicron variant could pose a risk to exports. A promised stimulus package could boost GDP growth directly by 0.1 percentage point in 2022 and even more through indirect effects on consumer and business confidence."

-- Yuki Masujima, economist. 

For the full report, click here.
An official at the Cabinet Office said changes in the way the government did its seasonal adjustments had a big impact on the figures this time, pushing up the capital spending number, but pushing down the consumption component.
Still, Wednesday's report confirms that Japan's economy has shrunk in five of the past eight quarters. 
The International Monetary Fund projects Japan's growth rate to be the slowest among group of seven nations both this year and next, but part of the reason Japan's recovery pace has trailed that of the U.S. and much of Europe is because its trough during the pandemic wasn't as deep.
A stimulus package unveiled last month by Kishida will still take time to execute, but will likely help lift the recovery next year.  
"Looking at past examples of handout impacts, the supply and demand balance doesn't shift immediately," said IHS's Taguchi. "At the moment, omicron doesn't seem too bad domestically, but we need to be aware of the risk that people will start refraining from going out if it does get worse."