Japan Bread Maker Fails to Rise With People Stuck Baking at Home
(Bloomberg) -- Consumers in Japan, like those in many markets, are filling their days stuck at home by trying their hands at baking away the pandemic. Flour and yeast haven't been seen on many supermarket shelves for weeks. Affordable home bakery machines are sold out online until June.
All these people staying at home are bad news for the country's largest baker Yamazaki Baking Co. Shares in Yamazaki plunged the most in 33 years on Thursday in Tokyo after it reported disappointing first-quarter results, despite having been expected to be a beneficiary of stay-at-home demand.
Yamazaki makes most of its money from what it terms its "sweet buns" segment - Japanese pastries filled or topped with flavors such as red bean paste. The pre-packaged breads are a staple of lunchtimes for workers and students alike, but with schools closed and many working from home, sales in the segment slumped 1% compared with the year-earlier period.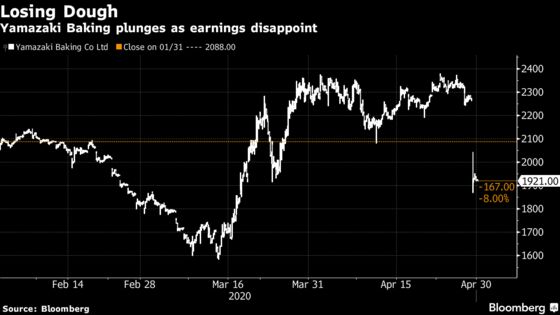 That was enough for investors to sour on the stock, sending it down as much as 18%, the most since October 1987 and the biggest drop on the Topix index, with the segment making up more than one-third of Yamazaki's revenue.
Nomura analyst Satoshi Fujiwara downgraded the company's stock to reduce from neutral and lowered its price target to 1,700 yen from 1,900 yen. Fujiwara cited weak sales of Yamazaki products at convenience stores and at its own bakery shops.
SMBC Nikko said the market's heightened expectations for benefits to Yamazaki from the stay-at-home trend are likely to fade and weigh on the share price. The broker sees the company facing a "tougher" second quarter as sales of bakery products are likely to have been weak in April.
"The impact on consumption from stay-at-home and working-from-home trends differs depending on the product category, with a boost to bread but a drag on pastries," analysts Naomi Takagi and Rei Ihara wrote in a note. "The overall impact looks negative."