Jaguar Land Rover Warns U.K. of $106 Billion 'Bad Brexit' Toll
(Bloomberg) -- Jaguar Land Rover warned the U.K. government that failing to secure a good deal on Brexit would wipe billions from its coffers and hobble an iconic British carmaker at a time when business is worried about limited trade access to the European Union.
A "bad Brexit" would jeopardize as much as 80 billion pounds ($106 billion) in spending by Jaguar Land Rover over the next five years, Chief Executive Officer Ralf Speth said late Wednesday in an emailed statement. Extra costs and delays in parts deliveries coming from outside the U.K. would cut profit by 1.2 billion pounds a year, he said.
"As a result, we would have to drastically adjust our spending profile," Speth said. Shares of parent Tata Motors Ltd. fell as much as 5.4 percent, and were down 2.3 percent at 1:49 p.m. in Mumbai.
The warning from Speth came ahead of a crucial cabinet meeting on Friday where Prime Minister Theresa May will try to find consensus on her latest proposal for the U.K.'s future economic relationship with the EU. Brexit Secretary David Davis has already told May in a letter that the new customs plan is unworkable, a person familiar with the matter told Bloomberg News.
Businesses have become more outspoken amid government indecision that's increased the chances of a so-called hard Brexit. Jaguar Land Rover's statement follows similar warnings from German automaker BMW AG and planemaker Airbus SE that they also may pull investment. The head of an industry body for U.K. carmakers said last week that Brexit risked slowly suffocating investment with "death by a thousand cuts," as manufacturers choose to build new models overseas instead of at British plants.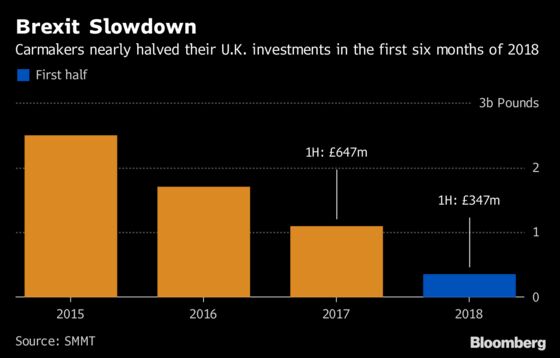 Speth's comments contrast to pledges made last month by West Midlands-based Jaguar Land Rover, when it promised to retool a plant near Birmingham for a new generation of electric cars.
All U.K. investment is in jeopardy, a Jaguar Land Rover spokesman said, when asked about the plan at the historic Solihull plant. The company has already said it will move production of its Land Rover Discovery to Slovakia from that location by early next year. The 80 billion at risk represents all spending, including wages and buying parts, he said.
For car businesses, the debilitating effects of Brexit won't be sudden or dramatic but more of a slow drain that will sap an industry that powers about 10 percent of the U.K.'s economy. Airbus, based in Toulouse, France, has said it's stockpiling parts to prepare for potential difficulties after Brexit occurs next spring.
Jaguar Land Rover has already spent 10 million pounds since the Brexit referendum on employing staff to make contingency plans for post-Brexit operations, the spokesman said, though it hasn't spent any money putting those plans in place.
Tata Motors said in a statement Thursday that the investment plans that Jaguar Land Rover presented to investors in June didn't factor in a "worst case Brexit scenario," and the company stands by the intentions shared at the time.
"Jaguar Land Rover needs free and full access to the single market beyond transition to remain competitive which we also firmly believe is in the best long term interests of the United Kingdom," Tata Motors Chief Financial Officer P.B. Balaji said in the statement. "JLR will continue to work with the government to secure the right free trade deal for the country, economy and industry."