Luxury Carmakers Are Taking a Hit as Demand in China Plummets
(Bloomberg) -- Europe's luxury car titans are bearing the brunt of a slump in Chinese auto demand, and investors in India are paying the price.
Jaguar Land Rover's announcement late Monday about shuttering production for two weeks in October at its Solihull plant in the U.K. -- because of sinking demand in China -- sent shares of its owner Tata Motors Ltd. plunging 13 percent in Mumbai. That wiped out $1.2 billion of its market value, or enough money to buy about 25,000 Jaguar F-Pace SUVs, each priced at about $47,000.
The British marquee brands, which featured in several James Bond movies, said sales in China declined 46 percent last month amid an uncertainty resulting from import duty changes and continued trade tensions. The world's biggest luxury automakers BMW AG and Daimler AG have both previously cited the tit-for-tat trade war between the U.S. and China among reasons for issuing profit warnings as Chinese consumers stay away from showrooms.
Performance of the marquee brands in China is critical for Tata, which gets more than three-fourths of its revenue from the U.K. units it bought from Ford Motor Co. about a decade ago.
"JLR is the real backbone of Tata Motors in terms of profitability," said Deepesh Rathore, London-based director at Emerging Markets Automotive Advisors. "Any slide of JLR fortunes will adversely impact Tata Motors."
Tata Motors fell 13 percent to 184.35 rupees, the largest drop in nine years. The stock was the biggest mover in India's benchmark Sensex index, which slipped 0.5 percent. The Mumbai-based automaker is trading at its lowest level January 2012.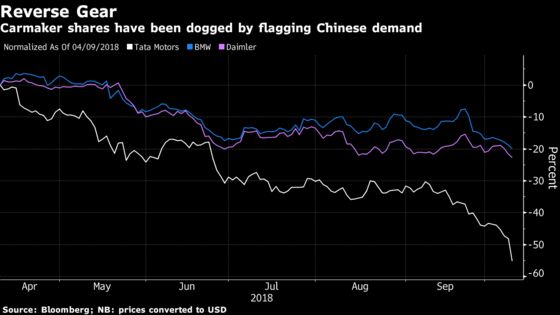 Chinese vehicle sales have been tumbling for carmakers including General Motors Co., as slowing economic growth, a weakening currency and losses in the stock market add to the woes from the trade war. The conflict is adding to unprecedented pressure on an industry grappling with the shift to electric cars.
BMW is among the most-affected from higher tariffs, as it ships popular sport utility models like the X5 from its U.S. plant in Spartanburg to China.
Jaguar Land Rover's weak performance in China comes as the company braces for the possibility of a hard Brexit. Last month, Chief Executive Officer Ralf Speth warned Prime Minister Theresa May that a bad Brexit deal could put tens of thousands of jobs at risk and cost the company more than 1.2 billion pounds a year ($1.6 billion).