Jaguar Land Rover Owner Swings to Profit as China Sales Jump
(Bloomberg) -- Jaguar Land Rover's Indian owner reported a pretax profit for the three months through March as a recovery in Chinese demand lifted sales of the automaker's luxury sports cars and SUVs.
Tata Motors Ltd. posted fourth-quarter earnings of 57 billion rupees ($23 million) before tax and one-time items on Tuesday, rebounding from a loss of 65 billion rupees a year earlier. Revenue soared 42% and exceeded estimates.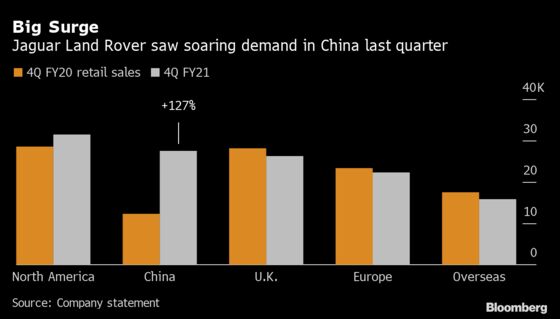 JLR's improving sales performance is crucial for Mumbai-based Tata as the group's Indian business is being buffeted by the surge in coronavirus cases gripping the country. Government-imposed lockdowns have shuttered sales outlets and halted factories' production lines.
"While demand remains strong, the supply situation over the next few months is likely to be adversely impacted by disruptions from Covid-19 lockdowns in India and semiconductor shortages worldwide," Tata said in a statement.
The group booked a 1.5 billion-pound ($2.1 billion) charge initially flagged in February related to JLR's shift to electric models, though its net loss still narrowed.
Tata Motors closed 3.5% higher before the company released earnings. The stock is up 80% this year.
Jaguar Land Rover posted a pretax profit of 534 million pounds in the quarter after selling 12% more vehicles. Sales more than doubled in China and increased 10% in North America.
All model ranges except Jaguar-brand autos were back to pre-Covid levels in the quarter, lifting JLR's market share to 6%. That was up from 4.4% in the first three months of the financial year, with the new Defender sport utility vehicle spurring gains.
The global shortage of semiconductors has affected JLR since the quarter ended, forcing the carmaker to suspend production at its Castle Bromwich and Halewood plants for a limited period.
The company is working with suppliers to resolve the issue, though Chief Financial Officer Adrian Mardell said it could contribute to a small Ebit loss in the current quarter, which is always JLR's weakest for cash flow. He reiterated full-year cash and profit-margin targets.
JLR is staging a recovery after wrangling with uncertainty over Brexit and stricter emissions limits in the past few years. Chief Executive Officer Thierry Bollore has outlined plans to cut costs by 2.5 billion pounds and reduce headcount by 2,000 while accelerating an electrification drive.
The company said it has reduced expenses to lower its breakeven point to 400,000 vehicle sales a year, from 600,000 in 2019.
Tata said its own operations will show a "relatively weak" performance in the current quarter as the Covid-19 outbreak hampers production and commodity prices increase. It expects a gradual improvement later in the year.