JAB Seeks Bigger Stake as CoverGirl Owner Coty Plots Revival
(Bloomberg) -- JAB Holding Co. said it plans to increase its stake in cosmetics maker Coty Inc. to as much as 60 percent, sending the shares soaring on the investor's vote of confidence in a management turnaround.
The European conglomerate, which also owns stakes in Krispy Kreme and Peet's Coffee, said Tuesday it would like to boost its holdings from the current 40 percent. If successful, its tender offer would bolster control of the CoverGirl owner, deepening an almost three-decade-long relationship with Coty.
Coty shares surged as much as 18 percent Tuesday, and have catapulted more than 50 percent in the past three trading days after posting quarterly sales gains last week that were lifted by a licensing deal with Burberry Group Plc.
Coty, also the owner of Clairol and other consumer brands, is rebounding under new Chief Executive Officer Pierre Laubies after a difficult few years. On his first earnings call with investors on Friday, he began outlining his strategic plans for the company, including bringing financial discipline to the company. He said he sees international promise for its CoverGirl brand.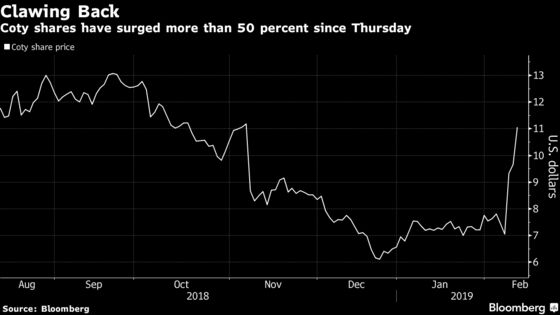 JAB's deal is "a bit of a peace offering" given a 67 percent pullback in Coty's stock last year, Jefferies analyst Stephanie Wissink said in a research note. JAB has already played a role in bringing changes to the company's structure and strategy, including board leadership, cost synergies and leadership appointments, she said.
Since Coty announced it would buy Procter & Gamble's beauty brands for $12.5 billion in 2015, its share price has dropped 68 percent. Last fall, it spooked Wall Street with a slew of supply chain disruptions, including a hurricane that forced the shutdown of a manufacturing plant and warehouse in North Carolina.
But Coty said last week that it took a $965 million writedown on the P&G consumer beauty brands, showing that while the deal may have been overvalued, it was putting the issue behind it.
Coty's quarterly results saw luxury outpace mass-market names, and were particularly strong on its deal with Burberry. Coty licenses perfumes and cosmetics with more than a dozen European brands. Separately Tuesday, Francois-Henri Pinault, CEO of Gucci owner Kering SA, said he hoped to boost revenue from cosmetics by creating dedicated teams to coordinate with Coty on developing new products. In addition to managing fragrances like Gucci Bloom, Coty will launch the first makeup for the brand this year.
With a 40 percent stake, JAB is already Coty's largest investor by far. Its affiliate's offer to buy as much as 150 additional shares at a 21 percent premium to Monday's closing price lets the company exercise more control while also leaving the benefit of public equity, which could be useful for acquisitions or financing going forward.
JAB and Coty declined to comment Tuesday.
The stake may be more economic than strategic. JAB said Coty's recent management changes are "an important first step in addressing the company's recent performance." Jefferies' Wissink said the new management seems "more realistic than prior execs on the time required to turn around the business."