J&J's Growing Pharma Unit Helps Company Overcome Currency Woes
(Bloomberg) -- Johnson & Johnson's booming pharmaceutical unit is driving the health-care conglomerate's business, leading the company to raise its full-year earnings guidance after trimming it a quarter ago because of foreign exchange rates.
Sales at the New Brunswick, New Jersey-based company's drug division were up 6.7 percent in the third quarter, to $10.3 billion, the company said in a statement. Overall, J&J forecast adjusted earnings this year of $8.13 to $8.18 a share.
For the first time in at least a decade, drugs made up more than half the company's quarterly sales. The company's consumer unit is growing, but not as quickly as the drugs business. Medical device sales were down.
The strong dollar continues to hurt J&J. While international sales grew 7.5 percent on an operational basis, currency fluctuations trimmed 4 percentage points of that growth. In July, the company cut its earnings forecast for the year because of foreign exchange rates.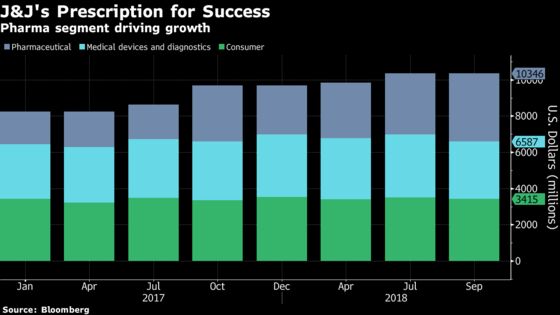 J&J's stock has trailed the S&P this year so far, and is down 4.1 percent year-to-date compared to a 2.9 percent gain in the index. The health-care company's shares were up 0.5 percent in thin trading before the market opened.
For more details on the company's results, click here.