J&J's Rising Pharmaceutical Sales Hurt by Strong U.S. Dollar
(Bloomberg) -- Johnson & Johnson recorded 20 percent growth in its drug unit in the second quarter, but the company is trimming its forecast for the year as a strong dollar hampers its growth.
The U.S. medical conglomerate said in a statement Tuesday that it was cutting its full-year revenue projection to $80.5 billion to $81.3 billion, from $81 billion to $81.8 billion, and narrowing its adjusted earnings forecast.
The shares were up 0.6 percent to $125.40 in trading before the markets opened in New York, reversing earlier losses.
J&J is based in New Brunswick, New Jersey, but generates about half its sales overseas. It's one of the first major U.S. multinationals to report earnings after President Donald Trump began implementing a round of tariffs and threatening others, which has rattled markets.
Those changes in the markets appear to have affected J&J. Three months ago, the company said exchange rates would give it a 4.2 percent boost to sales; this quarter it cut that estimate to 1.9 percent.
Currency trends could weigh on other large drugmakers as well, said Vamil Divan, an analyst with Credit Suisse Group AG.
"This was a key driver of the company lowering full-year sales guidance and sets a potentially cautious tone for earnings season for the U.S. pharma space, especially those with greater ex-US exposure," Divan said in a note.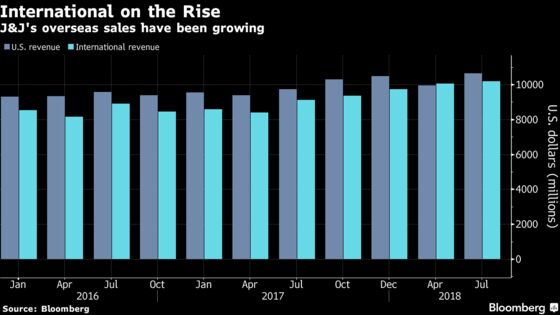 Since April 16, the day before J&J's last quarterly report, the U.S. dollar is up 5.4 percent against a basket of 10 major global currencies. Trade and monetary policy tensions between nations can have a stark impact on currency markets.
J&J Chief Financial Officer Joseph Wolk, who took over the role this month, said the company hadn't been hurt by specific tariffs -- although products in its consumer unit are most vulnerable.
"It's really not attributable to the trade war at all," Wolk said. "It's simply the macro effect of a stronger dollar."
The currency shifts have also affected J&J's drug unit, which has grown quickly through deals and new products to become the company's biggest. The unit's benefit from exchange rates fell to 2.3 percent in the second quarter, compared to 4.3 percent in the prior period.
Wolk also said the company will continue to defend itself in the legal saga surrounding its talc products. Last week, a jury ordered the company to pay $4.69 billion to women who claimed asbestos in the products caused them to develop ovarian cancer, the six-largest product defect verdict in U.S. history.
"We believe the science is overwhelmingly on our side," Wolk said. The company has said it will appeal the judgment.