J&J Gains Most Since January After Hiking Annual Profit Forecast
(Bloomberg) -- Johnson & Johnson gained the most in almost nine months after raising its 2021 profit forecast, with strong performance across the health-care giant's main divisions driving quarterly results. 
Adjusted earnings for the year will be $9.77 to $9.82 a share, J&J said Tuesday in a statement, up from the previous guidance of $9.60 to $9.70. Third-quarter adjusted earnings per share were $2.60, J&J said, beating Wall Street's average estimate of $2.36. 
The shares gained 2.3% to close at $163.87, the most in a full trading day since January 26. They've risen 4.1% since the year began. 
Health-care company results have been improving across the board this year as pandemic restrictions abate and patients return to hospitals and clinics. J&J benefited from gains in its medical-device unit, as well as in its pharma and consumer divisions. 
The quarter's results were helped by strong drug sales that rose about 14% from a year ago to $13 billion. J&J cited Darzalex for multiple myeloma, the immune treatment Stelara, and psoriasis drug Tremfya as top performers. Overall revenue rose 11% to $23.3 billion, narrowly missing the average estimate of $23.7 billion.
J&J's closely watched medical device unit grew 8% to $6.6 billion, as elective surgeries continued to come back. The consumer-health unit grew more than 5% to $3.7 billion, benefiting from a surge in sales of adult Tylenol, children's Motrin as well as Zyrtec amid cold, flu and allergy season.
J&J also recorded a $1.4 billion litigation charge in the quarter tied to the bankruptcy earlier this month of a subsidiary involved in talc-related liabilities. The company earlier announced plans to create a $2 billion trust to pay amounts the bankruptcy court determines that its talc-claim subsidiary owes.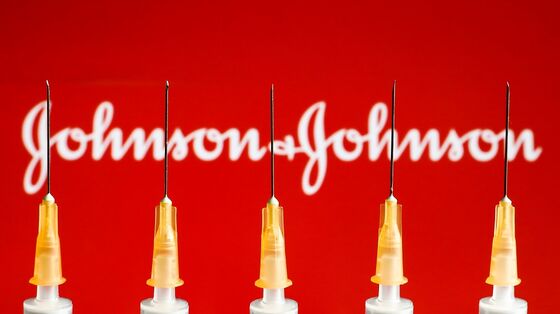 Meanwhile, New Brunswick, New Jersey-based J&J's single-shot Covid vaccine produced $500 million in the quarter, missing the average estimate of $762 million. Chief Financial Officer Joseph Wolk said the inoculation is still on track to meet the $2.5 billion full-year forecast as production picks up. 
Wolk noted that the vaccine is being offered on a not-for-profit basis and isn't material to its broader portfolio across pharmaceutical, consumer and medical device products. 
"I always have a little bit of a smile when our stock reacts positively or negatively as much as it does when there's vaccine news," he said. "The strength and breadth of our business is the story of 2020 and 2021." 
J&J's Covid shot has been less widely used than messenger RNA vaccines from Moderna Inc. and the Pfizer Inc.-BioNTech SE partnership, in part because of issues at a manufacturing partner. Now, as pandemic restrictions that dampened its overall drug business abate, J&J is resolving problems with the vaccine. 
On Friday, advisers to U.S. regulators voted unanimously in favor of recommending the booster for people 18 and older who received their initial immunization at least two months earlier. The experts also indicated support for mixing and matching booster shots from different manufacturers, but didn't consider a recommendation.
This week, the Food and Drug Administration could decide on whether to clear the booster, and the Centers for Disease Control and Prevention will consider which populations should receive it. Bloomberg reported Monday evening that the FDA is poised to clear mixing and matching boosters with different vaccines than the original inoculations people received. 
Wolk said that J&J has produced enough supply to provide the U.S. with boosters for all who ultimately become eligible. Asked if the U.S. government might buy up more doses of the J&J vaccine, Wolk said discussions about such an agreement are ongoing.
"I'm sure they're assessing what their overall demand is, and probably were waiting on some panel recommendations and FDA approvals before committing any further," he said. "The collaboration is strong and we'll just see where that lends itself."
The company could move into commercial sales of the product in late 2022 or 2023 as it delivers on existing contracts globally and transitions into selling more booster shots, Jennifer Taubert, executive vice president and worldwide chairman for pharmaceuticals, said on a call with analysts and investors.
J&J  is preparing to file for full regulatory approval of the vaccine and "I think we want to be moving into a full approval market for that switch over to commercial," she said.