NYC to Require Shots or Tests for Hospital Workers: Virus Update
(Bloomberg) -- Pfizer Inc. and BioNTech SE reached an agreement to partner with South Africa's Biovac Institute to make their vaccine in Cape Town and deliver more than 100 million doses annually to the nations of Africa, the world's least-vaccinated continent.
New York City will begin requiring Covid-19 vaccinations or weekly testing of all workers in its public hospitals and clinics in an attempt to slow an increase in cases sparked by the highly transmissible delta variant.
Covid-19 can be beaten if 70% of every nation's population is vaccinated by mid-2022, World Health Organization Director-General Tedros Adhanom Ghebreyesus said as he called for a massive global inoculation drive. "The pandemic will end when the world chooses to end it," he said.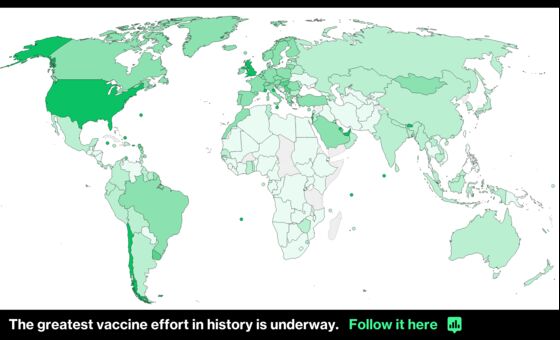 Ivory Coast to Buy 3.5 Million J&J Doses (3:10 p.m. NY)
Ivory Coast plans to buy 3.5 million doses of Johnson & Johnson's vaccines by December, while neighboring Burkina Faso received a donation of 150,000 J&J shots from the U.S. despite concerns about the inoculation's side effects.
NYC to Require Vaccines for Health Workers (12:55 p.m. NY)
New York City will begin requiring Covid-19 vaccinations or weekly testing of all workers in its public hospitals and clinics in an attempt to slow an increase in cases.
The highly contagious delta variant, first identified in India, now makes up 69% of tested cases in New York City, data show. Delta has driven a recent increase in cases, especially among the unvaccinated.
About 60% of the city's more than 42,000 public hospital employees have been vaccinated, according to Mitchell Katz, president and chief executive officer of the system. Citywide, 65% of all adults have received their shots.
Zambia Takes Delivery of J&J Doses (10:30 a.m. NY)
Zambia on Wednesday took delivery of 151,200 doses of the Johnson and Johnson vaccine from the U.S. through the World Health Oranization-backed Covax facility.
The single-dose vaccine is the third to be used in the southern African nation, after it earlier began inoculations using AstraZeneca and Sinopharm shots. Zambia has reported 188,573 cumulative coronavirus cases and 3,162 deaths.
Fakes Vaccines in Uganda (9:13 a.m. NY)
At least 800 people in Uganda received fake Covid-19 vaccines in June from "unscrupulous people" as employers rushed to inoculate workers amid a spike in infections.
Some companies paid to have their employees vaccinated at their work premises, but the medical officials turned out to be fraudsters largely administering water, according to Warren Naamara, the director of State House Health Monitoring Unit. Two people were arrested over the scam, he said by phone.
Indonesia Shifts to Variable Curbs (8:37 a.m. NY)
Indonesia will use a four-level movement-restriction strategy that varies from city to city based on how badly affected they are, before a plan to begin easing the curbs next week.
The government will start to remove the limits on July 26 if the number of new virus cases continues to decline, said Coordinating Minister for Economic Affairs Airlangga Hartarto. Java and Bali are placed at the highest levels of 3 and 4, with rules that are equivalent to the previous emergency curbs.
Pfizer Joins With Biovac for Africa Shots (7:15 a.m. NY)
Pfizer Inc. reached an agreement to start production of its vaccine at a facility in Cape Town to deliver more than 100 million doses annually to African nations. Pfizer and its German vaccine partner, BioNTech SE, signed a letter of intent with Biovac Institute, a company partially owned by the South African government, to manufacture the shots.
The companies expect to bring Biovac's Cape Town-based facility into their broader coronavirus vaccine supply chain by the end of 2021, and to begin producing finished doses in 2022. At full capacity, Biovac is expected to produce more than 100 million doses a year, all of which would be distributed to the more than 50 member states of the African Union. The financial terms of the agreement weren't disclosed.
Indonesia Reports Deadliest Day (6:51 a.m. NY)
The country had 1,383 fatalities in the 24 hours through midday Wednesday, the most since the coronavirus pandemic began, even as new infections eased in the last few days. The government may start relaxing restrictions on movement on July 26 if the slowdown in cases continues.
J&J Raises 2021 Earnings Forecast (6:35 a.m. NY)
Johnson & Johnson raised its annual adjusted earnings and revenue forecast as quarterly sales rebounded from a year ago, when the pandemic stifled non-Covid procedures.
J&J's single-shot Covid-19 vaccine, which uses a different technology from messenger RNA shots developed by Pfizer Inc. and Moderna Inc., generated $164 million in worldwide sales in the second quarter, with more than two-thirds of that coming from international sales. That pales in comparison with mRNA shots, which are expected to be some of the best-selling pharmaceutical products of the year.
CEPI, China's Walvax to Develop Vaccine (5:25 a.m. NY)
The Coalition for Epidemic Preparedness Innovations will work with Shanghai Zerun Biotechnology and its parent, Walvax Biotechnology, to develop vaccine candidates targeting Covid-19 variants, CEPI said in a statement. CEPI will provide $13.1 million to fund development costs such as phase I clinical trials.