J.C. Penney Sales Slide as Its New CEO Tries to Clean House
(Bloomberg) -- As J.C. Penney Co. discounts more merchandise to clear the shelves of slow-moving inventory, investors are hopeful the painful overhaul is nearing its end.
The department-store chain, which has been aggressively trying to get the right mix of merchandise in stores, reported a sales contraction in its latest quarter. It also withdrew its prior 2018 earnings guidance, replacing a forecast for flat same-store sales with an expected low-single-digit drop.
Shares initially fell as much as 14 percent to $1.05 in New York after the earnings report -- the lowest intraday level in decades -- before erasing the loss and briefly turning positive. The stock, which had fallen 61 percent this year through Wednesday's close, was down 0.4 percent as of 10:58 a.m. in New York.
"It seems as though people are placing bets on potential success," Alex Arnold, managing director of the consumer sector at Odeon Capital Group, said in an interview. "They're not showing e-commerce growth or that they have the right merchandising. But they are showing that they are taking the bull by the horns and that they are trying to shift things, so that's hopeful."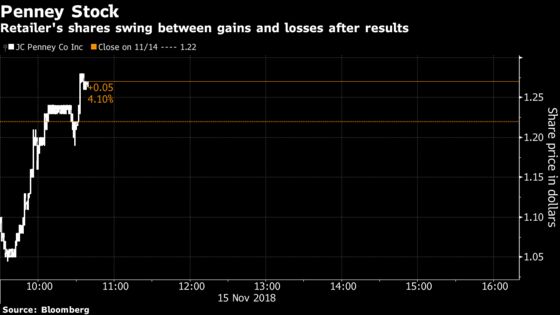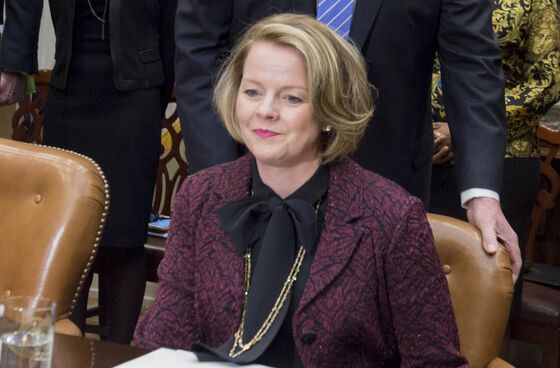 The company's earnings report was the first under the leadership of Chief Executive Officer Jill Soltau, who took on the top role exactly a month ago. While a healthy U.S. economy is buoying rivals' results and powering a holiday shopping season that's expected to be the best in recent memory, J.C. Penney is still working to formulate a strategy.
"J.C. Penney's slump is deepening as clearance events sink sales and margin, making the need for bold changes all the more urgent for new CEO Jill Soltau to revive growth soon," Bloomberg Intelligence analyst Poonam Goyal said in a research note. "Getting inventory right the first time is critical to drive any growth."
There's been a growing divergence in the department-store industry, as some weather the changing retail landscape better than others. Rival Dillard's Inc. plunged Thursday, sliding as much as 18 percent after reporting third-quarter earnings that its CEO called "disappointing.'' Macy's Inc., meanwhile, posted third-quarter same-store sales earlier this week that beat Wall Street's expectations. Nordstrom Inc. reports after markets close Thursday.
Comparable sales at J.C. Penney, a key metric for gauging a retailer's health, fell 5.4 percent in the quarter ended Nov. 3 -- deeper than the 0.8 percent drop analysts had been expecting. Previously, the company reported four quarters of anemic, but positive, comparable sales. Revenue also fell.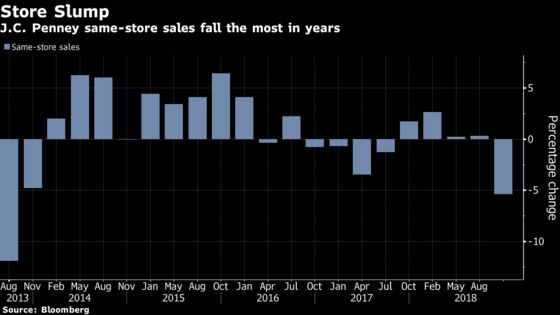 J.C. Penney's second and first-lien notes due 2025 and 2023 slipped to record lows and are among the biggest decliners in the U.S. high-yield market on Thursday morning in New York.
On the company's earnings call, Soltau said that she's talking with employees and "spending considerable time in the stores" as she works on a plan to deal with the retailer's high inventory levels. The company highlighted jewelry, women's apparel and men's sections as bright spots in the quarter.
"We know we have more work ahead of us," Soltau said.