J.C. Penney's Embittered Analysts Fume About 'Worthless' Shares
(Bloomberg) -- Analysts aren't holding back what they think about J.C. Penney Co.: One says the company is in "no-man's land." Another says the shares are "worthless."
Bearish comments are pouring in following the department-store chain's disappointing second-quarter earnings report, in which the company posted comparable-store sales that were close to flat and forecast a much wider loss for the current year. The company is also without a leader after the surprise departure in May of Chief Executive Officer Marvin Ellison.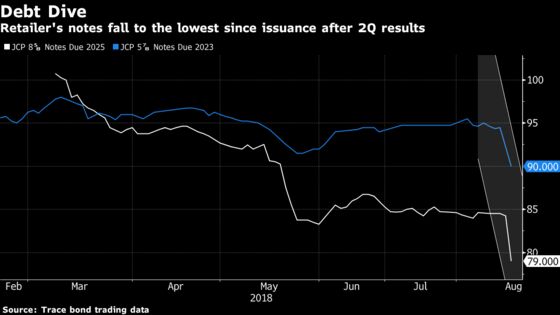 GlobalData managing director Neil Saunders said J.C. Penney's weak report, in light of stronger-than-expected U.S. retail sales data released the previous day, indicate that "while other players were enjoying the festivities, it was soundly asleep."
"There is something of a party going on in retail, with consumers spending in a relatively carefree way," Saunders wrote in a note to clients. "However, this is a party to which J.C. Penney was not invited."
He added the company is "in something of a no-man's land and fails to inspire anyone in particular."
The scathing tone was matched by Clearview Trading Advisors, which set its target price for the company at 1 cent.
"Based on JCP's updated and lowered guidance, we estimate JCP shares are currently worthless," Rick Snyder, an analyst at the firm, wrote in a research note. "This is not hyperbole -- we entered a price of $0.01 into our model."
The retailer's shares plunged as much as 27 percent to $1.75 on Thursday -- the lowest point since at least 1980. As of 2:47 p.m. in New York, the stock has lost about 43 percent of its value this year. Ten years ago, the shares were worth about $40.
Snyder said he wouldn't recommend anyone buy the dip in hopes of a rally, since the company's balance sheet and leverage ratios paint "an ugly picture."
Gordon Haskett analyst Chuck Grom was comparatively merciful in his assessment of the company, lowering his target price to $1.25 from $2.50. Still, he labeled the results "a disturbing development."
Bond trading Thursday also indicated rising skepticism from investors, with the retailer's first- and second-lien notes maturing in 2023 and 2025 both falling to record lows.
J.C. Penney declined to comment on the analysts' statements following the quarterly report.
JPMorgan, for its part, cut J.C. Penney to underweight, saying the company's flat same-store sales raise "material incremental forward concern" in spite of a "robust consumer backdrop."