Top Cocoa Growers Raise Farmers' Pay After Price Recovery
(Bloomberg) -- The world's biggest cocoa producers raised the guaranteed pay for their farmers after a recovery in global prices.
Ivory Coast, the biggest grower, increased the so-called farmgate price by 10% to 825 CFA francs ($1.37) per kilogram for the bigger of the two annual harvests that begins on Tuesday, Lambert Kouassi Konan, president of cocoa regulator Le Conseil du Cafe-Cacao, told reporters in the commercial capital, Abidjan. Minimum pay was 750 francs per kilogram for the last main crop.
New York futures have risen by about a fifth over the past 12 months, a second year of gains on forecasts of a fairly balanced market after huge surpluses in 2017. Ivory Coast, which usually sells almost all its cocoa prior to start of the season, uses the value of these forward-sale deals to determine farmers' pay.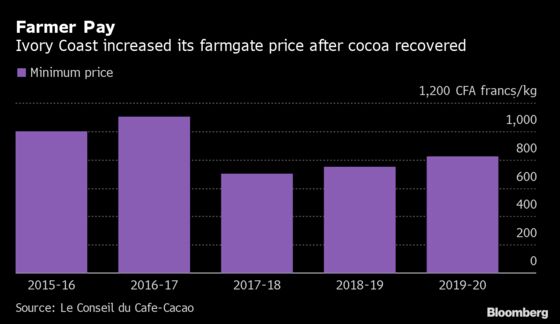 While the nation is increasing farmers' pay a second straight year, it still falls short of the 1,100 francs per kilogram that was set for the 2016-17 main crop. Ivory Coast and neighboring Ghana, the second-biggest grower, are banking on a mutual strategy to levy a premium of $400 per ton to increase growers' compensation from October next year as both nations head for presidential elections in the last quarter of 2020.
Ghana set its farmgate price for the main harvest at 515 cedis ($95) per 64-kilogram bag, or 8,240 cedis per ton, Gyiele Nurah, the minister of state at the Ministry of Food and Agriculture, told farmers in the central town of Sunyani. The 8.4% increase is the first pay rise in three years.
The two countries will limit cocoa output this year to stimulate prices further and prevent an oversupply of beans, said Konan. Ivory Coast will set its ceiling at 2 million tons, he said. The figure is 7.5% lower than last season's preliminary port arrivals of 2.15 million tons, and below forecasts of a record 2.23 million ton harvest for the new season, according to a Bloomberg survey.
"Together with Ghana we've voluntarily decided to limit production," he said. "If we have too much quantity on the market we work against ourselves."
While Ghana agreed to the proposal, the ceiling hasn't been determined yet and such a measure would require parliamentary approval, Fiifi Boafo, a spokesman for Ghana Cocoa Board, said in Sunyani.
Analysts are doubting whether such a plan will work as farmers will probably opt to sell excess beans on the black market.
"The crop is on the trees," Judy Ganes, president of J. Ganes Consulting in Panama City, said by email. "So it would require paying farmers for purchasing the crop, and then? Letting it sit stockpiled, or destroy it?"
London cocoa futures rose 0.6% to 1,879 pounds ($2,297) a ton at 2:25 p.m. in the city, extending this year's gains for a most-active contract to 6.4%.