Italy Weighs Rights Offer of Up to $3.5 Billion for Paschi
(Bloomberg) -- Italy is considering a rights offer of as much as 3 billion euros ($3.5 billion) for bailed out lender Banca Monte dei Paschi di Siena SpA, to strengthen the bank's finances and make it more attractive for a takeover by UniCredit SpA.
The Finance Ministry's favored solution to meet UniCredit's demand of a "capital neutral deal" is the sale of shares with pre-emptive rights that help protect the stakes of current investors, according to people with knowledge of the matter. The discount applied to the offer wouldn't be highly dilutive for investors, the people said.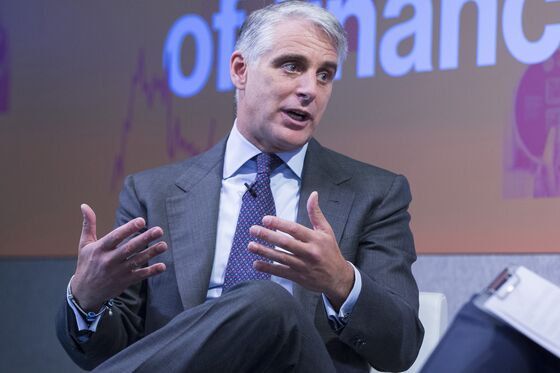 Various amounts are still in discussion and the final size of the rights offer would depend on the outcome of UniCredit's review of Monte Paschi's books, on which assets are sold and on the ratio of shares swapped between UniCredit and Monte Paschi, they said, asking not to be named as the process is not public.
UniCredit CEO Andrea Orcel started exclusive talks to take over the troubled Siena-based lender last month, after having agreed with the Treasury that any transaction will also exclude Monte Paschi's bad loans and all extraordinary litigation, and give adequate protection from other potential credit risks.
UniCredit shares jumped as much as 0.6%, paring losses to trade at 10.24 euros as of 12:26 p.m. in Milan after the report. The bank's subordinated bonds gained, including a 750 million-euro 5.375% note maturing in 2028 that rallied about one cent on the euro to 84.6 cents. That's its highest price since August 9. The bank's other subordinated notes also gained.
Talks are at an early stage and detailed arrangements, including the need for a capital increase, will be analyzed only after the due diligence is completed, the people said. Spokespeople for UniCredit, Monte Paschi and the finance ministry declined to comment on the matter.
While a sale to UniCredit would be Italy's preferred path for the lender, which was nationalized in 2017, meeting the conditions already set by UniCredit Chief Executive Officer Andrea Orcel could have a price tag of up to 10 billion euros for taxpayers. Prime Minister Mario Draghi's government is seeking a sizable payback in the deal, by getting UniCredit shares and future returns given by the bank to investors.
Monte Paschi said in its half-year report published last week that any possible combination may be preceded by a capital increase that can be "easily approved" by European authorities.
The parties are mulling a deal structure similar to the one that led to the creation of Banco BPM SpA five years ago, in which Banco Popolare and Banca Popolare di Milano agreed on an all-stock transaction at a swap ratio that took into account a capital increase by Banco Popolare before the completion of the merger, said the people.
The final amount of the capital hike may end up being lower to take into account the fiscal benefits granted by the government, one of the people said. That arrangement allows a bank's buyers to boost capital by transforming deferred tax assets from lenders involved in a deal into credits.
"A deal structure that envisages a Monte Paschi rights offer linked to a UniCredit share swap, like that which happened in the Banco BPM merger can be appealing for Paschi's minority investors," said Fabrizio Bernardi, an analyst at Bestinver. "The math of this exercise is still very uncertain given the many moving parts around Paschi, its capital and the magnitude of the "subset" that UniCredit will buy."