Italy's Market Battles Could Hamper Economic Growth, Istat Warns
(Bloomberg) -- Italy's economy will suffer if tensions with the European Union and investors push up borrowing costs for companies and households, the nation's statistics office said on Wednesday.
Istat cut its 2018 growth forecast to 1.1 percent from 1.4 percent -- citing weaker global trade and higher oil prices -- and sees an improvement to 1.3 percent in 2019, supported by consumption and the economic stimulus included in the populist government's budget.
The prediction is still lower than the coalition's goal of 1.5 percent. Istat also warned that a 100 basis-point increase in rates on loans would subtract 0.7 percentage point from its 2019 outlook.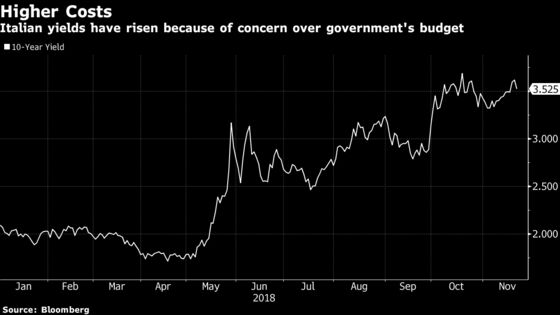 The new forecasts come amid reports that Deputy Prime Minister Matteo Salvini may be willing to spend less on citizen's income and on beneficiaries of the lower retirement age, newspaper La Stampa reported. That boosted Italian bonds, and 10-year yields dropped basis points to 3.527 percent.
The European Commission is due to deliver another judgement on Italy's controversial budget later on Wednesday, having already rejected the fiscal plans for breaking its rules. And there was further pressure on Italy on Tuesday, when retail orders in a sale of inflation-linked debt fell far short of levels seen earlier this year.
Prime Minister Giuseppe Conte is currently involved in a standoff with the commission over the budget, and Rome's expansionary spending plans have prompted a rise in borrowing costs. The government says a wider deficit and looser policy is needed to shield the euro region's third-biggest economy from the impact of lower global trade.