Italy's Tria Faces Hard Sell on Budget to Euro Colleagues
(Bloomberg) -- Italian Finance Minister Giovanni Tria must sell Italy's wayward budget to euro-area counterparts this week after initial targets alarmed investors.
While the 2019 spending plan is not on Monday's Eurogroup agenda in Luxembourg, Tria is certain to face questions about the proposal on the sidelines of the closely watched talks. The key detail released so far -- a 2.4 percent deficit target -- put Italian assets under intense pressure on Friday, with stocks and bonds falling.
That led to a weekend of verbal sparring among politicians. It also drew President Sergio Mattarella out of his usual reserve on political issues to remind the freewheeling populist coalition of its constitutional duties to seek a balanced budget and sustainable public debt.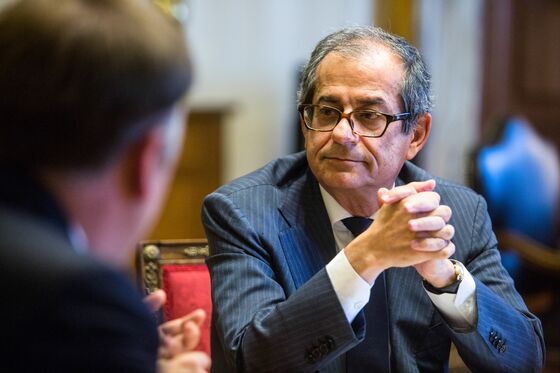 "If President Mattarella goes on the attack, constitution in hand, and opinion polls suggest that he has strong backing, the government will need to rethink its budget plans," Erik Nielsen, chief economist at UniCredit Group, wrote in a note on Sunday. "Tricky stuff, but worth watching carefully."
Central bank Governor Ignazio Visco issued his own warning about the need to reduce the debt, which is more than 130 percent of gross domestic product and the second-highest ratio in the euro area after crisis-stricken Greece.
Much of the focus at the weekend was on Tria, who had gained market trust with his reported attempts to hold the line on the deficit during the tumultuous budget talks over the summer. But he's also been subject to non-stop speculation about his future in the administration.
"I never threatened to resign," Tria told Il Sole 24 Ore newspaper in an interview. "The deficit target of 2.4 percent is the product of political negotiation, and I assure you that there was no small amount of that."
At this stage, Rome was expected to have released fiscal targets for the coming years, but initially all it gave was the deficit.
With so little detail, authorities in Brussels may favor letting Rome battle with markets for now. A harsh appraisal from the European Commission would play into the hands of the coalition leaders -- Five Star and the League -- who've blamed the EU for problems in Italy.
Deputy Prime Minister Luigi di Maio gave Tria his backing and repeated his mantra that the budget plan will help bolster infrastructure, thereby freeing up resources to lower debt. The 2.4 percent figure isn't supposed to pose a challenge to Europe, he said.
"We are a team," he told LA7 TV. "We are in constant contact with all European institutions."
There's also the issue that even the deficit target may not be set in stone. Cabinet Undersecretary Giancarlo Giorgetti told La Repubblica that the figure, apparently valid for each of the next three years, could be revised.
In the meantime, Tria has said the government is aiming for a debt cut of 1 percentage point per year over the next three years, while targeting growth of 1.6 percent next year and 1.7 percent in 2020. The problem with the GDP predictions is that they are far higher than economists project.
The finance minister came under pressure from the coalition partners to widen the spending gap from the 1.6 percent he reportedly favored. Newspaper Il Messaggero said that he was "embittered" and planned to resign after the budget package is approved. But as he heads to meet euro-area colleagues, he's remaining optimistic.333
"I am perfectly aware of the concerns of the European Commission," he told Sole. "But this is definitely not a challenge to the EU."