Italy's Populist Coalition in Question as EU Pans Budget Math
(Bloomberg) -- The quarreling inside Italy's populist coalition is fueling talk of an early election as the administration braces for another pummeling from the European Union.
The EU Commission will forecast Thursday that Italy's 2019 budget deficit will exceed even the Italian government's controversial projections as economic growth falls far short of the predictions drawn up in Rome, La Repubblica reported. Italy is already looking at potential sanctions over its budget plans. The forecasts are due for release at 11 a.m.
As the pressure mounts, Matteo Salvini of the anti-migrant League and Luigi Di Maio of the anti-establishment Five Star Movement are increasingly clashing on their social media channels. Each is trying to convince his base that they are getting the best deal out of an uncomfortable coalition and that their leader standing up to the EU on spending.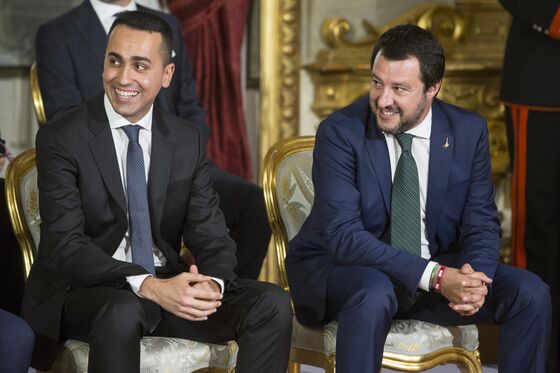 As the coalition tries to find a path between the demands of voters, investors and EU officials, its leaders have one eye on the campaign for next May's European Parliament elections. That will see the two partners fighting directly for votes and train an unforgiving spotlight on their many political differences.
"I'd rate the chances of the government surviving until the European Parliament elections at 60 percent," said Roberto D'Alimonte, a political science professor at Rome's Luiss university. "All the noise, all the posturing, it's a commedia all'italiana which could turn to tragedy, especially given that financial markets are watching closely."
The government has five days to decide whether to bow to EU demands for a revised budget or brave the political and financial fallout -- bond yields are already close to their highest in four years and Di Maio has lashed out at officials who've called for caution.
The EU will forecast a 2019 budget deficit for Italy of 2.9 percent compared with the coalition's target of 2.4 percent, La Repubblica reported. In 2020 it could even breach the EU ceiling of 3 percent, the newspaper said. The commission will project growth a third lower than Italy's forecast of 1.5 percent, the newspaper said.
For now, Salvini and Di Maio have survived their latest spat, though not without incident. When Prime Minister Giuseppe Conte tried to reconcile the two with an evening meeting on Tuesday, Salvini told reporters in Rome, "What meeting? I have to watch the Champions League tonight." He later tweeted a photograph of his dinner -- ravioli and a glass of red.
The leaders eventually joined forces to win a confidence vote in the Senate on Wednesday, beating down five Five Star lawmakers opposed to tighter restrictions on asylum-seekers. Salvini said Wednesday on national TV that he isn't planning on early elections and would like the government to last a full 5 year term.
Yet conflicts continue to flare up periodically, with the two sides divided on issues including a citizen's income for the poor and a lower retirement age in the 2019 budget.
Any concessions to Brussels, however, could put the leaders in a tight spot with voters. Five Star and the League are also distant on proposals to fight corruption, a tax amnesty, and a high-speed rail project through the Alps to France.
In the frescoed halls of the Senate in central Rome on Tuesday, lawmakers went from coffee-break to coffee-break as the vote on a security and migration decree kept being postponed. Yet senators from the two coalitions continued to insist that the pact agreed to by the parties before they took power on June 1, would hold for a long time.
"This government will last for five years because it represents a big part of the electorate," said Five Star senator Ugo Grassi, 54, a law professor from Naples. "We have discussions on specific issues because we have different approaches, but mutual trust counts a lot and there is a solid relationship between Di Maio and Salvini."
"Our roots are different but Five Star are reasonable, we talk and we reach a compromise, we'll last five years," echoed Massimiliano Romeo, 47, who heads the League's senators and is from Monza, near Milan, in the country's rich north.
Grassi and Romeo are typical of the gulf between the allies, with Five Star a web-based movement founded in 2009, strongest in the poor south -- while the League has long served in government at regional and national level and has its heartland in the industrial north.
For Salvini, the temptation to force an early election has increased after his party leapfrogged Five Star in opinion polls, with the League at some 30 percent, compared to Five Star at about 28 percent. That temptation could grow if the League makes a strong showing in the European vote.
Salvini has already started campaigning for the EU elections, meeting with Hungarian Prime Minister Viktor Orban and France's Marine Le Pen, and billing the vote as a contest between national sovereignty and Brussels bureaucracies.
If Salvini did break with Five Star, he could go back to his previous allies: the center-right Forza Italia of ex-premier Silvio Berlusconi, and the far-right Brothers of Italy. That combination would not currently give him an absolute majority in parliament.
For Di Maio, sticking to Salvini is even more necessary on both a political and personal level. Under Five Star rules -- which may be changed -- party members can only serve two mandates as elected representatives, and Di Maio has already held the office of deputy-speaker of the lower house.
"Di Maio needs to stay with Salvini because Five Star is divided and slumping in the polls, unlike the League," said Fabio Bordignon, a political science professor at the University of Urbino. "But staying in power could make Di Maio lose even more support."