Italy's Populist Spat Said to Put France Rail Link Funds at Risk
(Bloomberg) -- A row between Italy's populist partners is fast turning a high-speed Alpine rail link with France into a loss-making machine, with project delays jeopardizing millions in European Union funding.
As Deputy Premiers Matteo Salvini and Luigi Di Maio spar over whether to go ahead with the $10 billion plan, the Telt company building the link has frozen all tenders awaiting a final decision by the government and European Union funding already allocated at risk, according to a person familiar with the matter.
The EU has already approved more than 800 million euros ($922 million), some of which could be lost if tenders remain frozen. The person said about 75 million euros a month could be lost in productivity because of the government's indecision. The transport ministry declined to comment while Telt said it is waiting for indications from the Italian and French governments on how to proceed.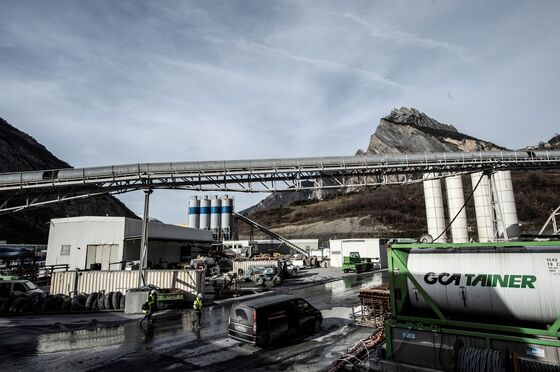 The rail link, known as TAV, is fueling tensions between the Italian government coalition's unlikely partners. Salvini of the pro-business League, whose base is in the wealthy north, is pushing for completion, while Di Maio of the anti-establishment Five Star Movement, strongest in the depressed south and opposed to big infrastructure works, wants to stop the project in its tracks.
The League will take part in a pro-TAV demonstration on Saturday in Turin, party officials said.
The ambitious project, co-financed by Italy, France and the European Union, is not economically viable according to a cost-benefit analysis commissioned by Rome's Infrastructure and Transport Ministry, Bloomberg reported in December.
A separate judicial study, commissioned by the same ministry, has estimated the cost for Italy of halting the project as at least 3 billion euros, newspaper Corriere della Sera reported Friday. The government may take a stand against the plan, then say it was "constrained" to go ahead because of legal and EU obligations, Corriere said.
"We discuss things in government, including infrastructures. I'm in favor of new roads and railways," Salvini told RTL radio on Thursday. "If the technical analysis on the TAV were to be negative, none of us would want to, or could, stop a request for a referendum." Di Maio swiftly retorted that Five Star is against the project.
The first high-speed trains between the industrial center of Turin and Lyon, France's second-biggest city, are scheduled to start operating in 2030. The EU said in November it is ready to raise its contribution to 50 percent of the overall cost. French Transport Minister Elisabeth Borne told the Italian government in November that it must decide on TAV by early 2019.