Italy's Populist Partners Dig In as Internal Battle Intensifies
(Bloomberg) -- Tensions between Italy's populist allies, the League and the Five Star Movement, are intensifying, with Deputy Premiers Matteo Salvini and Luigi Di Maio fighting a two-front battle over an Alpine rail link and a legal case involving Salvini.
The unlikely partners are at loggerheads over whether to proceed with a $10 billion high-speed rail project, backed by Salvini's pro-business, rightist League, and whether the Rome Senate should allow an investigation into his refusal to let the Diciotti migrant ship dock at an Italian port last summer.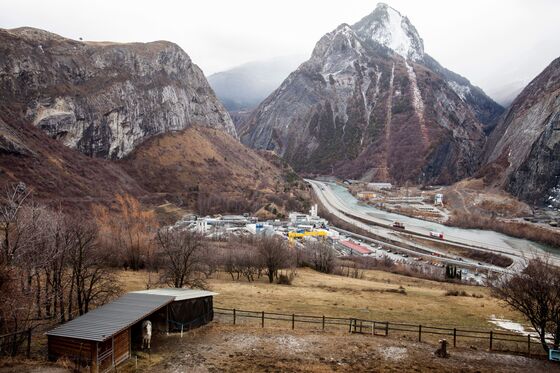 Salvini said any plan by Di Maio's anti-establishment Five Star to allow the Diciotti case to go ahead would be "blackmail," according to remarks cited by newspaper la Repubblica on Monday. Asked if Five Star wanted early elections, Salvini said, "I'm not afraid, they will take all the responsibility for it," according to Repubblica.
A spokeswoman for Salvini declined to comment on the Repubblica report.
Salvini, riding high in opinion polls, is under pressure from some League lieutenants who are fed up with Five Star to force early elections this year. Salvini has been reining in his troops, reminding them there is no guarantee that President Sergio Mattarella would call a new vote instead of seeking a new coalition -- which theoretically could exclude the League.
Adding to the tensions is the recession that started at the end of 2018 and which now threatens to derail the populists' expansive program.
Elections for the European Parliament in late May are widely seen as a watershed for the government of Prime Minister Giuseppe Conte, as Salvini's League is expected to score strongly in what it portrays as a battle for national sovereignty against interfering eurocrats. Salvini could try to force a government reshuffle, with more ministerial jobs for the League, or early elections, after the European vote.
Di Maio poured cold water on speculation that the government could collapse. "The government is not in doubt," the Five Star leader told reporters on a visit to his native Naples region Monday. "We always manage to keep going with this government, because we're reasonable people and we know that if this government fails, the ones who were in power before will come back."
Di Maio also signaled that his party could vote to block the legal case against Salvini. The party chief said that while Five Star has long opposed parliamentary immunity, the Diciotti case "is not a case of immunity."
Di Maio said he, Conte and Transportation Minister Danilo Toninelli will file a statement to the Senate to explain that the decision in the case to deny access to migrant ships was taken by the government as a whole, not by Salvini.
Salvini spent Friday rallying his pro-business northern Italian base. During a visit to a building site in the Piedmont region, where the TAV high-speed rail tunnel is due to link Italy to France, the League chief said any halt to the project would cost more than finishing it. Di Maio, whose party is stronger in the impoverished south, is virulently opposed to the rail link.
Di Maio, who spent the weekend campaigning in the central Abruzzo region ahead of elections there on Feb. 10, publicly cautioned his ally on Sunday not to "push on things we don't agree on to create tensions in the government, I don't recommend it."