With EU Deadline Looming, Italy's League Warns of Risks to Banks
(Bloomberg) -- Italy is due to answer the European Commission's doubts about its budget plan following a warning from a government official in Rome that a widening bond yield spread may push some banks toward a recapitalization.
The Commission, in a bluntly worded letter last week, questioned the soundness of Italy's expansive spending program for 2019. Commissioners Valdis Dombrovskis and Pierre Moscovici said the "significant deviation" needs a response by noon on Monday.
Investors have been closely watching the rift between Rome and Brussels, driving up Italian debt yields and widening the 10-year yield spread with German bunds. An increase in Italy's bond-yield spread is a risk for domestic banks and is adding to tensions in the financial system, according to Cabinet Undersecretary Giancarlo Giorgetti.
"The spread is a risk for banks, which we can't ignore," Giorgetti, a senior official in Deputy Prime Minister Matteo Salvini's League, said in an interview with Il Messaggero. The situation requires "a serious and responsible approach from the government."
The bond spread, public debt held by banks and new European Union banking rules are straining Italy's financial system, which "may generate the need to recapitalize some institutions that already have capital fragility," Giorgetti said in comments published Sunday.
His comments appeared as polls opened for regional elections in the northeastern area of Trentino-Alto Adige. Both the League and coalition partner the Five Star Movement are looking to pick up support there.
The government's 2019 budget deficit target of 2.4 percent of economic output is a "ceiling" and may not need to be used completely, Giorgetti told the newspaper. He said Finance Minister Giovanni Tria should have the possibility to do reviews quarterly or even more frequently to "calibrate" the government spending.
Italy's banks are reeling from the impact on their capital levels of soaring government bond yields, which touched a five-year high on Friday. They're also sitting on a 260 billion-euro ($299 billion) pile of non-performing loans, the biggest in the EU, from the last financial crisis and recession.
"It's important to start a frank and constructive dialog with the European Union," Giorgetti said in the interview. "We're responsible people and we'll do things in a responsible way."
The 10-year yield spread over Germany, a key risk barometer, dropped from 341 basis points, the highest level in more than five years, after Commissioner Moscovici said Friday that EU wouldn't interfere in the government's economic policies.
A spread greater than 400 basis points would not be sustainable for Italian banks, according to an October 7 note by Credit Suisse Group AG. A 200 basis-point broadening from the end of June would reduce the capital ratio of Italian lenders' by 66 basis points on average, according to its estimate, which could trigger the need for capital increases.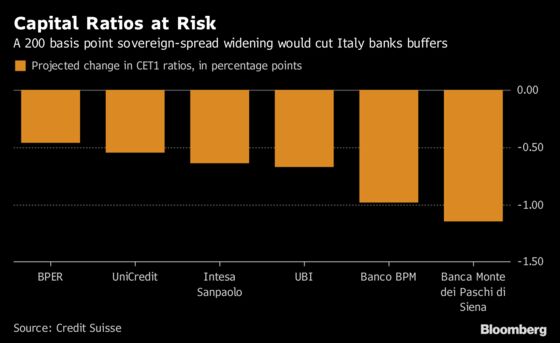 Moody's Investors Service cut Italy's credit rank by one step to Baa3, its lowest investment-grade rating, on concern the government's budget will erode its fiscal strength and stall plans for structural reform.
"One notch downgrade was expected but not so early," Credit Suisse analyst Carlo Tommaselli said in a note, adding that the warning letter from the European Commission may have accelerated the cut. A decision by Standard & Poor's "is expected in one week. We would expect further pressure on banks."
Even so, Italian government bonds, stocks and debt from Europe's other peripheral nations may rally on Monday after the ratings decision removed the immediate threat of a downgrade to junk and the outlook was shifted to stable.
European Central Bank Governing Council member Ewald Nowotny said on Friday that the budget battles could harm Italian lenders, which will be the main buyers of the country's sovereign debt when the ECB ends its purchasing program.