EU Flags Risks of Italy's Populist Budget as Bank Shares Slide
(Bloomberg) -- Italian assets tumbled after populist leaders Matteo Salvini and Luigi Di Maio defeated their mainstream cabinet rivals to set a budget deficit target that threatens the country's financial stability.
The European Union's economy chief said Italy is taking a risky bet on fiscal stimulus considering the scale of its debts, after the two deputy premiers defeated Finance Minister Giovanni Tria in their first battle to set next year's budget-deficit target at 2.4 percent of output. A 2 percent threshold had emerged as a litmus test for financial markets worried about a destabilizing spending spree.
Ten-year yields rose as much as 35 basis points to 3.24 percent, the biggest increase since a rout in May during the government's formation. The yield spread over Germany reached a three-week high.
Trading in several Italian banks was temporarily halted as lenders including UniCredit and Intesa led the country's benchmark stock index to its biggest decline in two years.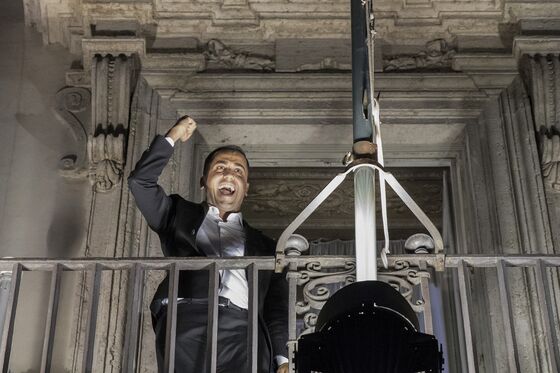 "Italy, which has debt at 132 percent, chooses expansion and stimulus," Pierre Moscovici, EU Economic Affairs Commissioner, said in an interview with BFM television. It's "a budget that looks like jaywalking, and out of line with our rules," he added.
Di Maio swiftly brushed away Moscovici, telling reporters at a Rome event that "the concerns are legitimate but the government has committed itself to maintaining the deficit-GDP at 2.4 percent and we want to repay the debt." Salvini was similarly confident. "Markets will come to terms with the budget," he said in a Facebook video.
Read More: Investors Can't Ignore Italian Debt Arithmetic Forever
"We have no interest in a crisis between the Commission and Italy," Moscovici said. "But it's also not in our interest for Italy to not respect the rules and not reduce its public debt, which remains explosive."
Investors are right to be nervous, said Christoph Rieger, Commerzbank's head of fixed-rate strategy, with the budget compromise at the high end of the range that had been talked about before.
"And what weighs more, it has demolished Tria's credibility," Rieger said. "This underlines the balance of power within the government, and having a lame duck finance minister in this situation will require a higher risk premium."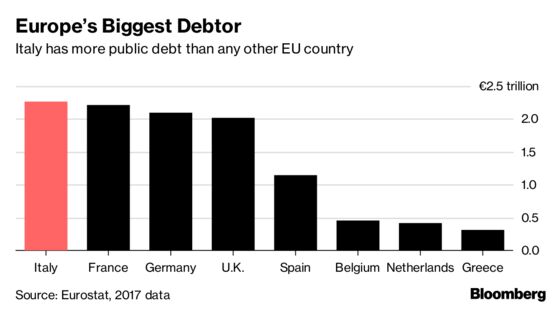 Italy has to submit its 2019 budget for approval to the Commission by Oct. 15. Brussels has the power to impose fines of up to 0.2 percent of GDP on countries that persistently break the bloc's fiscal rules. However, when push came to shove in 2016, the Commission opted to not penalize Spain and Portugal -- the culprits at the time -- and instead imposed symbolic zero sanctions.
The decision was seen at the time as an effort by the EU's executive arm to not alienate its members amid rising populism and discontent with austerity. But for many EU officials, it tarnished the credibility of the bloc's fiscal rules.
Ahead of European Parliament elections in May, Five Star and the League want to deliver on expensive campaign promises to shore up support.
The 2019 target is a setback for Tria and President Sergio Mattarella. They had sought to moderate the more extreme instincts of the government, formed in June by Di Maio's anti-establishment Five Star Movement and Salvini's anti-migrant League.
The finance chief said he'll stay in his job because he has a responsibility to help maintain stability, La Repubblica newspaper reported. Mattarella had urged him not to quit, newspaper Sole-24 Ore said.