Italy Coalition's France Rail Rift Shows Ruling Together Is Hard
(Bloomberg) -- A rift within Italy's coalition government over a high-speed rail link to France underscores the policy differences between the two parties running the country and suggests that future initiatives favored by one side may be blocked by the other.
Prime Minister Giuseppe Conte, with the support of Five Star Movement leader Luigi Di Maio, is preparing to take steps to halt the project, known as TAV, to connect Turin and Lyon via a 60-kilometer (37-mile) tunnel below the Alps, daily la Repubblica reported Friday. But Di Maio's coalition partner, Matteo Salvini's League party, backs the rail plan, which has been the target of protests for years.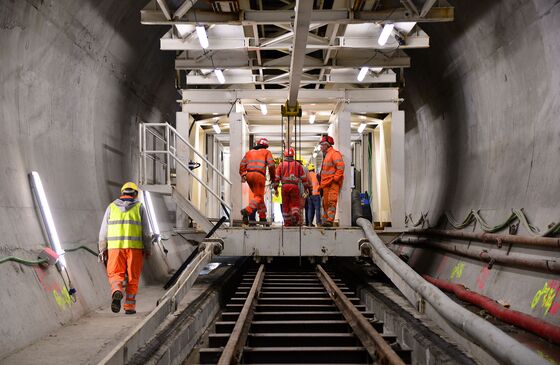 It's not the first time the two partners have locked horns over policy differences. The League and Five Star's views diverge on immigration -- where a hard-line approach was a big vote-getter for the League in the March national elections -- and the so-called Citizen's Income, a key plank in the Five Star platform that critics have slammed as an expensive handout.
About 14 percent of the tunnel work has been completed and the first train is scheduled to run in 2030, according to a spokesperson for the consortium building the rail project. The cost of pulling the plug on TAV would be unprecedented, estimated at more than 2 billion euros ($2.3 billion), according to an independent study presented to the Italian cabinet in May.
While pledges to halt big infrastructure projects including TAV and the Trans Adriatic gas pipeline almost always figured in campaign speeches from Five Star, the rightist League led by Salvini didn't focus as much on them at the time. Now, Salvini has made his party's support for TAV clear.
"We need to push ahead, not go back," Salvini said about the project in an interview with Radio 24 on Friday.
Halting the rail project would require a parliamentary majority, hard to come by given the differences of opinion between the coalition's two members, neither of which has the votes for a majority without the other.
Newswire Ansa reported Friday that Italy's prime minister is not yet working on the issue and has not made any final decisions, according to government sources. Infrastructure Minister Danilo Toninelli is working on a cost-benefit analysis, Ansa said.