It Won't Burn Down: Architect Defends Vision for Bangkok Airport
(Bloomberg) -- Bangkok's main airport is planning to add a $1.3 billion terminal with extensive wooden cladding and a forested landscape, spurring concern about fire risk. Its designer says there's no need to worry.

Tropical forests inspired the blueprint for the building and the aim is to give travelers a feeling of Thailand's uniqueness, 52-year-old architect Duangrit Bunnag said in an interview. He rejected concerns from the Engineering Institute of Thailand that the structure could be a fire hazard.
"Airports tend to have similar features -- they're white, cold and metallic," Duangrit said. "I wanted a design that immediately gives travelers the feeling they've arrived in Thailand. It will be a metal structure covered with wood. Different treatments can be applied to the timber to ensure fire resistance."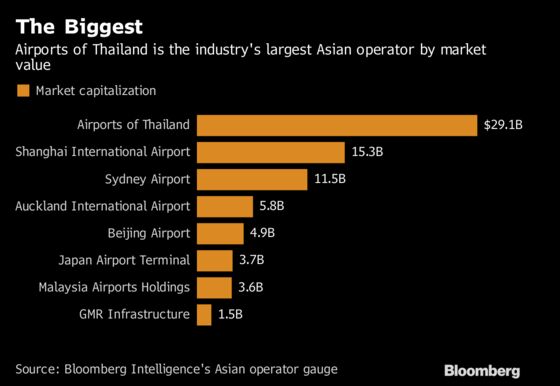 The state-controlled firm expects to boost annual passenger capacity by 30 million by building a second terminal at Bangkok's Suvarnabhumi international airport. Construction is due to start next year and finish by 2021.
A tourism boom is straining the country's infrastructure, putting pressure on officials to tackle bottlenecks. Foreign arrivals could hit 40 million next year -- equivalent to more than half the population.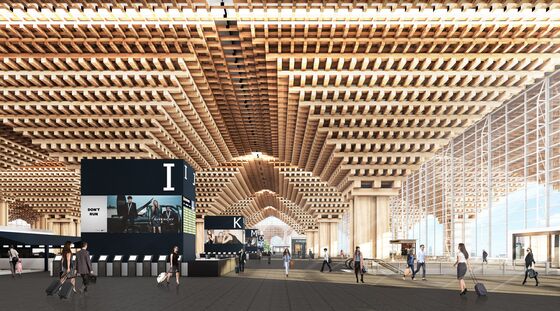 Duangrit's design features sweeping arches and giant columns clad in wood. He also proposed an enclosed tropical-forest landscape spanning about 16,000 square meters between two buildings of the terminal. Passengers would be able to see but not to enter the landscape, a symbol for ecological protection.
"The difficulty in designing the terminal is how to make it memorable to travelers from around the world," Duangrit said. "How do I make it look different to all the other airports?"