It Wasn't Just the Fed Keeping Repo Markets Cool at Year-End
(Bloomberg) -- The Federal Reserve was victorious in preventing a year-end squeeze in funding markets. But it had a little help from its friends.
A $276 billion surge in the use of so-called sponsored repo from money market funds in December helped banks open their lending taps and add to the $256 billion in year-end liquidity provided by the Fed. Overall usage of the once-niche facility peaked at $524 billion during the month, ensuring September's funding turmoil had little chance of repeating.
In sponsored repo deals, a clearing house sits between trades enabling banks to offset transactions against one another, reducing the amount they take on to their balance sheets and lowering the likelihood they trigger capital constraints. That frees up extra funds that can then be lent into the market.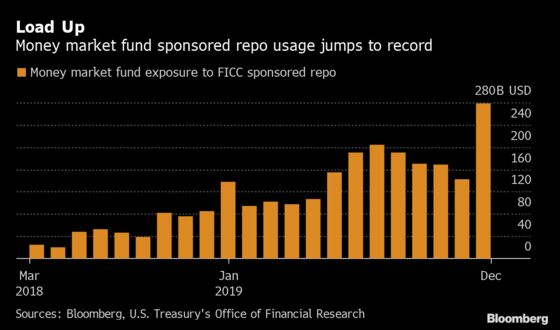 Money market fund exposure to sponsored repo almost doubled in December, hitting a new monthly record of $276 billion, according to the Office of Financial Research. Total usage of the facility rose even more with total volumes peaking at $524 billion, up over 50% on November's high, according to DTCC data.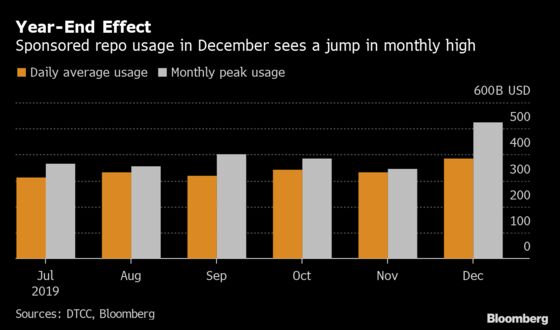 "Subtracting money market funds' participation from December's peak gross volumes, this suggests sponsoring members provided as much as $248b of financing into the repo markets at year-end," wrote Alex Roever, head of U.S. rates strategy at JPMorgan Chase & Co. "It's no wonder year-end was a non-event."
While year-end came and went without too much disturbance, the Fed is continuing to provide liquidity through repo operations. The central bank on Tuesday announced plans to conduct repurchase agreement operations through until at least Feb. 13, although the size of term operations will be trimmed to $30 billion from the start of next month. Term actions before then are currently scheduled to have a maximum size of $35 billion.
Thursday's term operation attracted $34.8 billion of bids, just under the maximum, while the overnight operation was $39.35 billion -- well under the $120 billion cap.