It's So Hot in Texas Power Use Rose to an All-Time Record
(Bloomberg) -- A relentless heat wave has Texans blasting so many air conditioners that power demand rose to an all-time high on Wednesday.
The state's power-grid manager said on Twitter that electricity use hit 72,192 megawatts across its system during the hour ended at 5 p.m. local time, surpassing a previous record of 71,110 megawatts set in August 2016. Wholesale prices for electricity secured a day in advance topped $1,500 a megawatt-hour for several hours in the region on Wednesday.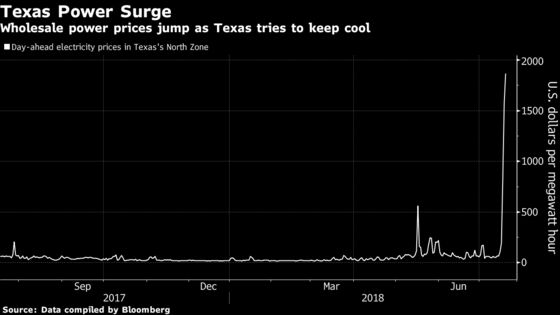 Texas is closing in on a third day of temperatures above 100 degrees Fahrenheit, and the heat is forecast to last into next week. The National Weather Service has issued an excessive heat warning with some counties expected to see temperatures at or above 105 degrees Fahrenheit (41 degrees Celsius).
"We have already hit two peak records this week and expect to keep breaking them," said Theresa Gage, a spokeswoman for Texas grid operator Electric Reliability Council of Texas.