It's Snowing in Malibu? Rare Cold Blast Descends on Los Angeles
(Bloomberg) -- Move over Chicago, step aside New York, there is a new contender for winter snow this year: Los Angeles.
Well, the hilly suburbs in the counties surrounding downtown actually, where as much as 3 inches (8 centimeters) of snow could fall overnight as low as 1,500 feet, according to the National Weather Service. A winter-weather advisory has been posted for Los Angeles, Ventura and Santa Barbara counties, among other Southern California locales. Even the hills above the tony neighborhoods of seaside town Malibu may see some powder.
There's a rare blast of cold air reaching all the way to Mexico, and a few flakes could even fly in Tucson, Arizona, said Brian Hurley, a senior branch forecaster with the U.S. Weather Prediction Center in College Park, Maryland.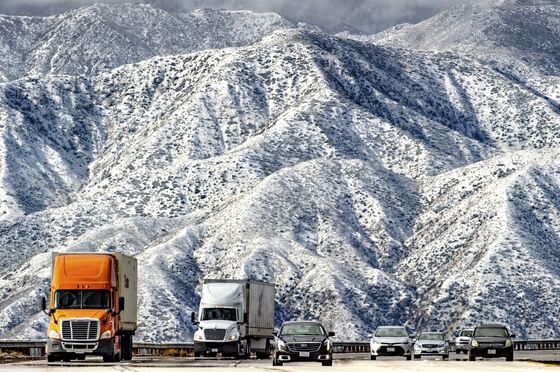 "It is certainly highly unusual," Hurley said. "By Friday morning, temperatures are going to average 10, 15 to 20 degrees below normal."
Snow has fallen in Los Angeles before. In January 1949, downtown Los Angeles got 3 inches of snow, earlier that month even San Diego had a few flakes, according to Weather Underground, an IBM company. Las Vegas picked up 0.5 inches Wednesday and has had a few more flakes on Feb. 9, 17 and 18, the weather service said. More snow could fall overnight Thursday.
More than 300 flights were canceled out of Las Vegas's McCarran International Airport, according to FlightAware, a Houston-based airline tracking service.
Twitter erupted Thursday with photos of snowflakes drifting in the skies around southern California. But in many cases that was something called graupel, a sort of fluffy, under-performing type of hail. Hail is formed when an icy pellet is tossed around inside a cloud by upward winds until it gets heavy enough to fall.
"In the summertime when you get a hail stone, that sucker has layer upon layer upon layer of ice on it," Hurley said. "Graupel is like a powder ball that breaks apart when it hits your jacket."
While the depths might not rival what Chicago or New York can get on a blustery day, winter-weather advisories and winter-storm warnings have been posted across Southern California as driving will be dangerous.