It's Sergey Brin vs. John Elway in Colorado's Oil-Drilling Clash
(Bloomberg) -- A ballot measure that could curb oil and gas development in Colorado has attracted attention from some heavyweight names, including former Denver Broncos quarterback John Elway.
Proposition 112 would require new drilling sites, processing plants and gathering lines to be located at least 2,500 feet away from homes, schools and other "vulnerable" areas. That could lead to about 54 percent of state land becoming inaccessible to producers for new oil and gas development, according to the Colorado Oil & Gas Conservation Commission.
READ MORE: Colorado's $40 Million Battle Over Drilling in Three Charts
"Polling continues to move in the industry's direction, with generally 'yes' in the low 40s and 'no' in the high 40s. Some recent polls seem to be even better, presumably due to the 'Elway bump'" according to SunTrust analyst Welles Fitzpatrick, as the Denver Broncos' two-time Super Bowl champion quarterback and current president of football operations/general manager John Elway appeared in ads recommending people vote no.
Colorado House Majority Leader KC Becker, a Democrat representing a north-central district that includes part of Boulder County, recently said proponents simply don't have the funding necessary to go up against the oil and gas industry, which has pumped more than $30 million into a campaign to defeat the measure. Proponents, meanwhile, have raised $700,000.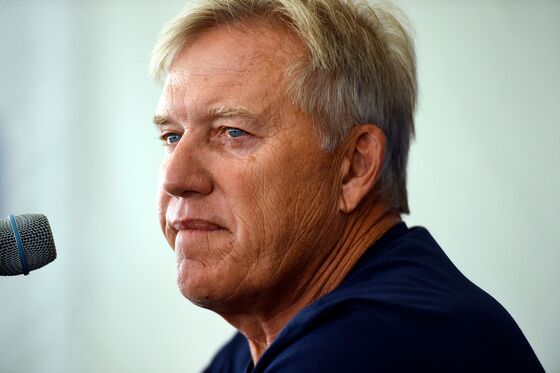 Backers of proposition 112 raised about $351,000 for the period of October 11-24, based on an amended filing as of October 30, of which only $177,000 was in cash, according to TRACER data.
Alphabet Inc. founder Sergey Brin's foundation was briefly listed earlier this week among donors backing the plan -- with an "in kind" gift for digital media, although the filing was later corrected. Brin's foundation, instead, donated the service to general operations for ProgressNow Colorado, a communication firm that supports local progressive causes.
"There was a huge misunderstanding on the part of Colorado Rising that led to an erroneous campaign finance filing with the Secretary of State's office," ProgressNow Colorado's executive director Ian Silverii told Bloomberg news.
Still, Credit Suisse sees the result as likely to be a close call.
"While Election Day's outcome is ultimately binary, even #112's defeat could support perception of continued regulatory overhang," the bank's analysts led by Betty Jiang told clients in a note.
"Early results still show both major parties participating similarly, with Republican ballot submissions ahead by over 2,400 ballots and the gap narrowing from Friday. If the polls closed as of this writing, Proposition 112 would fail but by a razor thin margin." Robert W. Baird & Co. analysts said in a note to clients on Monday.