Surprise! Refinancing Complex Debt Instruments Is Hard
(Bloomberg) -- When Banco Santander SA skipped a call date on bonds this week, unnerving sentiment in the $340 billion market for risky bank debt, it also highlighted a conundrum that bedevils all CoCo issuers: refinancing them is a lot trickier than for plain-vanilla bonds.
Sure, just last week Spain's biggest bank raised $1.2 billion from a sale of additional Tier 1 bonds. But using those funds to redeem euro-denominated CoCos on Tuesday risked lumbering the bank with cross-currency swaps that might have made the deal uneconomical, and worse, could have put it afoul of regulators.
Because AT1 notes are undated, hedging them with dated swaps is an unappealing risk for treasurers. In Santander's case, to pay CoCos in euros this week with newly acquired dollars would have forced the bank to translate the U.S. currency into euros for a set period of five years, the time to first call. A spokesman at the Madrid-based bank declined to comment.
Banks that will have to grapple with the problem as their AT1s come up to first call dates in coming months include Barclays Plc, Credit Agricole SA and Nordea. All have issued in dollars, which are not their home currency.
Cross-currency swaps, depending on how they trade, could potentially become a deciding a factor in a bank's decision on whether to call its bonds. That flies in the face of the Capital Requirements Regulation in Article 52: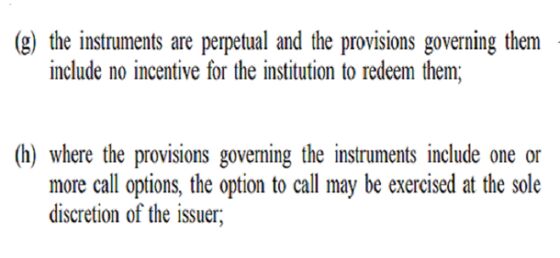 We don't know what conversations took place between Santander and its supervisors, but given the "no incentive" and "sole discretion" requirements it's not hard to guess they might in any case balk at a large swap being placed between the decision to call and the bank's situation.