It's Monkey Gin Versus Geopolitics at Pernod
(Bloomberg Opinion) -- It's not just Louis Vuitton handbags and Gucci loafers that are benefiting from the Asian luxury boom.
Pernod Ricard SA, maker of Martell cognac and Jameson whiskey, lifted its profit forecast for the 2019 financial year, thanks to a return to growth in China and India.
The company said Wednesday it now expects organic profit from recurring operations to grow 5 to 7 percent in 2019, compared with a previous projection of 4 to 6 percent. Profit expanded 6.3 percent in the year to June 30.
Chinese sales rose 17 percent in 2018, a big turnaround from 2 percent in the year earlier. The U.S. arm showed improvement and is now growing broadly in line with the spirits market.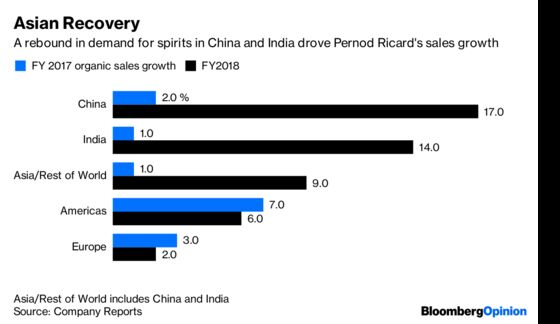 Borrowings also fell, with net debt at 2.6 times Ebitda, compared with 3 times in the year earlier. That provides scope to plug portfolio gaps with targeted merger and acquisition activity.
The shares have risen almost 20 percent over the past year, and are close to record highs. They trade on a forward price earnings ratio of about 21.5 times, broadly in line with the average for a Bloomberg Intelligence global beverages index. That's a big change from three years ago, when the discount was significant.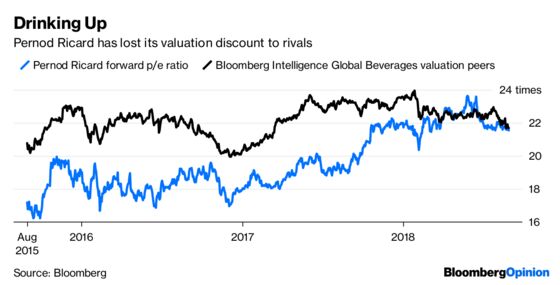 Pernod has undoubtedly delivered another a decent performance, executing well on its strategy, and innovating through its decision to increase advertising and promotional spending to 1.72 billion euros ($2.01 billion).
Though the shares at one point fell the most since Nov. 2016 on concern that not enough sales growth was flowing through to profit, investors should not be so hard on Pernod. The company is investing in new, premium products, which is wise as this is in line with consumer tastes. It has also sought to modernize its portfolio, divesting peripheral brands and buying fast-growing spirits such as Monkey 47 gin.
Still, achieving a decent premium to the broader market requires it to navigate some tricky headwinds.
As I have argued, there is a question mark over whether Chinese consumers will continue to lap up luxury goods.
There has been an element of catch-up from 2015 and 2016, when the government cracked down on extravagant consumption and stock markets gyrated. The ensuing recovery has boosted everything from Swiss watches to premium cosmetics.
But that surging consumption could start to wane, particularly if trade tensions between the U.S. and China start to weigh on shoppers' confidence.
Add in some higher input costs, including for agave, a key ingredient in tequila, and the outlook is more challenging.
Pernod has the right strategy and it also forecasts a strong first quarter. But it must prove it can overcome these hurdles for investors to say cheers.
This column does not necessarily reflect the opinion of the editorial board or Bloomberg LP and its owners.
Andrea Felsted is a Bloomberg Opinion columnist covering the consumer and retail industries. She previously worked at the Financial Times.