It's Like That Epic Apple Warning Never Happened: Taking Stock
(Bloomberg) -- We're poised for a positive Friday despite Thursday's latter half, which by most accounts was disappointing. And there still are just two things that really matter.
The shutdown and trade. And if we want to throw a dash of equity-specific themes in, chip giant Intel. All three issues failed to deliver for the bulls yesterday, though in the case of Intel, their bar had already been raised following the boon of a day for semis Thursday.
On trade, I fear Sec. of Commerce Ross may regret his media rounds after a series of unfortunate quotes. His "miles and miles" comment initially shocked, but the bottom line is that there was no reaction and his attempts to walk back the gist of the already couched comments cemented what we already know -- a deal is not around the corner. Instead, the view should be that things aren't getting worse. We haven't seen any proclamations of new hundreds of billions in tariffs in weeks, and the absence of that news is good news.
He also weighed in on the shutdown, which we will just leave and say didn't come across as intended. The two bills failed in the Senate, as expected, but the silver lining was what occurred after and what could be construed as giving us a boost here early -- Senate Majority Leader Mitch McConnell and Minority Leader Chuck Schumer met privately in McConnell's office to discuss a path forward, and Schumer came out later, smiling. "We're talking, we're talking," he said.
Republican Senator Susan Collins was on CNN later in the day, expressing hope that the shutdown could end by next week after a bipartisan group got together to find a way forward.
But with Intel and tech as a whole in mind, given the extraordinary semis rally yesterday, I thought it prudent to take a look at companies whose fortunes are so inextricably linked to one of the largest companies in the world. You would assume they would have a difficult time surpassing that which they are dependent upon, but in the case of the Apple supply chain, it defies logic.
You can debate when the market really knew Apple was having difficulty towards the end of 2018 (was it when Austrian light sensor maker AMS AG cut guidance in November? Or when Qorvo did?), but for simplicity's purposes, let's put the responsibility on Cirrus Logic, which derives 82% of its revenue from the iPhone maker as of its latest filings.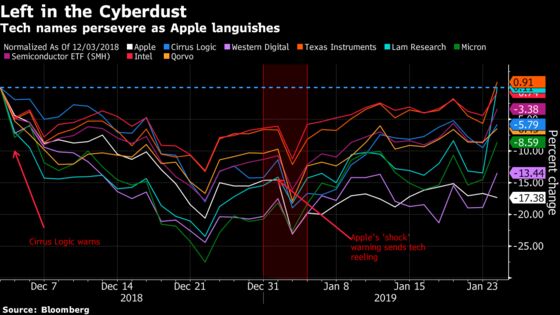 But as you can see, some of the highest profile names impacted by the worsening state of affairs are poised to recover, while Apple remains subdued. The two weakest in the above chart, storage and memory makers Micron and Western Digital, are poised to erase even more of those losses when trading opens Friday. Western Digital's third quarter forecast sent shares up more than 10 percent in the post market, helping peer Seagate Technology. Mizuho wrote that WDC's "potential bottoming" is driving optimism. Micron is indicated up about 2 percent.
To be sure, Intel Inc. could spoil the relief recovery party after its results failed to meet analysts estimates. The chipmaker cited a slowing economy and geopolitics for its weaker forecasts, but blamed its data center unit for some of the shortfall. Shares are down 6 percent pre-market (watch ASML, AMAT and LRCX as each are estimated to be dependent on INTC for more than 10% of revenues), but that was coming off its near 4 percent rise in the prior session after a slew of semiconductor names surprised the Street to the upside.
Morgan Stanley for its part says it finds itself defending Intel to investors, but still thinks 2018 was a cycle peak. On a positive note, its analysts are skeptical competitor AMD can make "further inroads."
Utilities (like ED, SRE) after the PG&E ruling that served to reduce its liability for some of the damage caused in the 2017 fires (a ruling that notably did NOT involve the 2018 fires that were California's most deadly)
Staples after Colgate's results slightly beat ests. The sector benefited off the back of PG's results Wednesday, while Thursday saw the segment give some back when cigarette makers Altria and Philip Morris fell out of bed
Housing stocks after homebuilders NVR and DHI report earnings. DHI's results were mixed, with new orders up 3%; PulteGroup reports next Tuesday
European industrial gas names Air Liquide and Linde after Air Products' results and views missed expectations
Restaurants after Starbucks beat estimates (watch DNKN, YUM, MCD)
Its not hyperbole to say next week will be by far the most important week for the investment trajectory than we've seen for months. Each event in and of itself could set the tone for the market for days, but we get the opportunity to digest it all in one fell swoop.
Economic heartbeat Caterpillar is up first (with its fingers in the worldwide revenue cookie jar; lest we forget its 'High Water Mark' comments in July of last year) with earnings Monday, while Tuesday brings Verizon, AMD (already trading in sympathy with Intel's results last night) and the big one: Apple. Yes, the tech behemoth pre-announced (as discussed above), but there's no doubt commentary from the C-suite will be even more closely scrutinized.
Later in the week we'll get Tesla (remember that pseudo warning just one week ago?), Microsoft, Facebook, Exxon, GE (now 30%+ off its recent $6.66 low and just announced its weighing strategic options for another unit), Altria (now sporting that shiny ~8% dividend yield), AT&T, UPS and then (or is it vs?) Amazon -- you know, your run-of-the-mill companies with little baggage, no drama and collectively account for trillions in market value.
Emerging unscathed by the series of conference call discussions surrounding trade, tariffs, slowing (or not) growth, we'll then get auto sales figures and payrolls figures (of the BLS and ADP variety) for the U.S.
But wait, there's more. The FOMC will likely refrain from a hike Wednesday (Fed funds futures price in a less than 2% chance of a hike), but then Powell will engage us in a press conference upon which we will hang on and parse each word for signs of an even "pausier" Fed. Goldman Sachs analysts expect a watering down of the language that further gradual increases would be consistent with its targets.
The pièce de résistance entails the expectation that U.S. and China representatives engaged in trade talks will issue statements on the status of affairs after their meetings that run through Jan 31. My guess is that they will pledge to talk further. For the sake of the economy (sorry bears) let's hope there's more progress there than was seen in the Congressional votes Thursday.
This weekend sees the singles finals of the Australian open and Tiger Woods' first event of the "season" (that never really ends) following the staggering win at East Lake (he's likely trying to put "The Match" loss vs Phil Mickelson out his mind)
Ultimate Software is a new buy-rated top "value" pick at Deutsche bank, as analyst Michael Turrin cites its early transition to the cloud in its transition to SaaS in 2002 and strong workplace culture. His $330 price target also takes into account what he calls "one of the most efficient and effective" sales models that featured fewer than 140 sales professionals push the company past the $1 billion annual revenue mark.
The prospect that global auto production "may falter," macro concerns and high auto prices leads PiperJaffray analyst Alexander Potter to downgrade Aptiv, a manufacturer and distributor of vehicle components, to neutral from buy.The high prices for vehicles raises the prospect that customers may opt for lower specification cars, impacting the company known for providing extras like active safety and infotainment products. Sees expectations as "unrealistically" high for the company on which he previously shared the Street high PT of $110. His new PT sits at $78.
Tick-by-Tick Guide to Today's Actionable Events
8:35am -- ABBV earnings
9:00am -- ABBV earnings call
12:pm -- Tiger Woods tees off at Torrey Pines for the second round
1:00pm -- Baker Hughes rig count