Turkey's Inflation Turnaround Could Be Over as Surprises End
(Bloomberg) -- Explore what's moving the global economy in the new season of the Stephanomics podcast. Subscribe via Pocket Cast or iTunes.
Turkish inflation ended a run of surprises, slowing in line with forecasts as it capped a turnaround from a currency crash in 2018.
Consumer prices grew an annual 8.6% in October, the slowest in almost three years and down from 9.3% in September, according to data released by Turkstat on Monday. After six straight months of undershooting estimates, the result matched the median in a Bloomberg survey of 19 economists.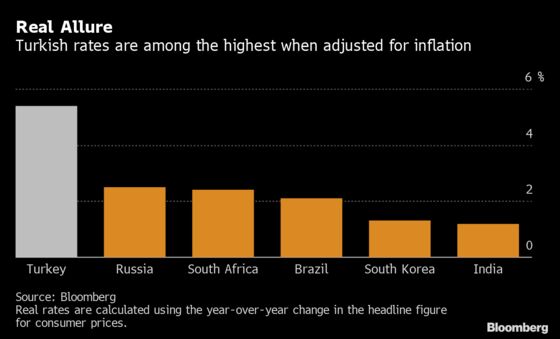 "We expect inflation to rise to double digits again in November due to the reversal of base effects in November and December," Nihan Ziya Erdem, chief economist at Garanti Securities, said before the data release.
Still helped along by a more stable lira and weak demand after a recession, the deceleration is losing momentum as the statistical effect of a high base of comparison after last year's price spike is starting to wear off.
Boasting among the highest real borrowing costs in emerging markets, Turkey's central bank is coming off three rounds of interest-rate cuts totaling 10 percentage points that brought its benchmark to 14%. The looming reversal in inflation could, however, put in doubt further monetary easing at this year's final meeting next month.
The lira gained 0.2% against the dollar on Monday, appreciating for a second day. It's still down about 2.5% in the past three months, among the worst performers in emerging markets.
"The ongoing improvement in the inflation outlook paves the way for another cut on Dec. 12," Morgan Stanley economist Ercan Erguzel said in a report. "Yet, the main driver of the decision should be the lira's performance in the next five weeks."
A period of acceleration in prices will continue through the first quarter, according to Governor Murat Uysal. In its quarterly report last week, the central bank lowered its inflation estimate for the end of 2019 to 12%, from 13.9%.
What Our Economists Say...
"Inflation decelerated further in October as base effects linked to the currency continued to moderate price growth. These effects will turn inflationary later this year, limiting the central bank's room to ease policy." 

-- Ziad Daoud 
Click here to view the piece.
Treasury and Finance Minister Berat Albayrak said on Thursday that he estimates Turkish inflation slowed to around 8% in October and pledged a permanent drop to single digits starting from next year.
Goldman Sachs Group Inc. expects price growth to end the year at 11% and then stabilize around 10% in the long run. "Orderly" moves in Turkey's currency against the dollar could even push inflation toward 8% under its model, but "risks are actually more skewed towards higher inflation figures," Goldman Sachs economists including Kevin Daly said in a note.
"The authorities are prioritizing growth over disinflation, creating risks for the lira," the Goldman economists said. "Going forward, we expect inflation to start rising once again as base effects become less pronounced."