It's Come to This: GoFundMe Campaign for N.J. Portal Bridge
(Bloomberg) -- Got a spare $920 million? Or even a buck? Super. A GoFundMe.com page is crowd-sourcing a replacement for Amtrak's Portal Bridge, the oft-malfunctioning New Jersey span that regularly menaces hapless commuters and all East Coast rail traffic.
The tongue-in-cheek (we think) campaign went live with a declaration: "We will no longer stand idly by and continue to suffer substandard public transportation." It was posted Wednesday. That was hours after New York Governor Andrew Cuomo, at a White House meeting with President Donald Trump, proposed seeking private bids to support Amtrak's $30 billion Gateway project, a rail-improvement plan that includes a new bridge. Trump has resisted committing federal funds.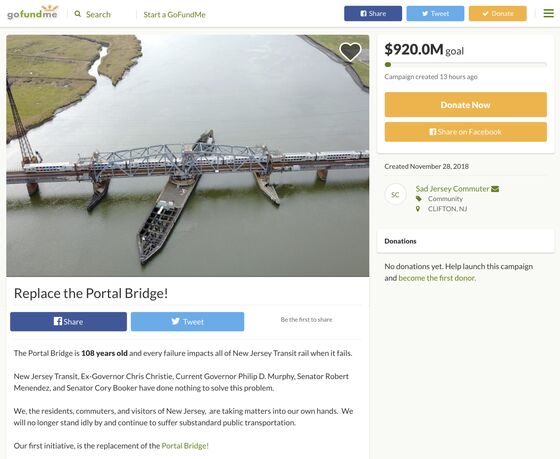 The organizer, identified only as Sad Jersey Commuter, from Clifton, appears to be familiar with two distinct horrors: train travel to and from Manhattan and New Jersey public finance.
"We've already come up with $600 Million already approved in bond financing in June of 2018, will only require $920,000,000!" the organizer wrote. "Yeah, I added 20 Million in oversight funding, but we are going to totally chew through that in no time, when this goes massively over budget."
Sad Jersey Commuter didn't immediately respond to a message sent via GoFundMe.
The bridge over the Hackensack River between Kearny and Secaucus swings to accommodate maritime traffic. In extreme temperatures, though, it's prone to closing incorrectly and crews sometimes must smack it into place with sledgehammers. The swing mechanism malfunctioned most recently on Oct. 30, causing 90-minute delays. On Nov. 14, a tugboat bonked into the bridge, forcing back-ups of at least an hour while inspectors checked for damage.
Steve Sigmund, spokesman for Gateway Development Corp., said the replacement bridge is designed, has regulatory approvals and some construction underway, and a $600 million state funding commitment.
"The more 200,000 daily passengers are focused on replacing this 108-year-old, one-track- in, one-track-out system, the better chance we have of getting the most vital transportation infrastructure project in the country done," Sigmund said in an email.
Craig Schulz, a spokesman for Amtrak, the bridge's owner, declined to comment. NJ Transit spokeswoman Nancy Snyder said in an email that, "We appreciate the public's interest in this vital project."
As of 2:30 p.m. Thursday, the campaign had attracted $5 toward the $920 million goal. The Portal Bridge remained, for the moment, open.