It's a Battle of Wills As EU Deadline on Italy's Budget Looms
A midnight deadline looms as Italy promises to stare down the European Commission in what's increasingly become a battle of wills.
Debt-ridden Italy is a founding member of the European Union that has long chaffed at being considered a junior partner to France and Germany. Now its populist government wants to spend its way out of more than a decade of intermittent recessions.
In Brussels, EU enforcers are demanding that Italy change its 2019 budget or risk billions of euros of fines.
Who will blink first? The rule book has been flouted before, and the EU's executive arm has never gone as far imposing penalties. This time it may decide it needs to make an example of Italy or risk the floodgates opening.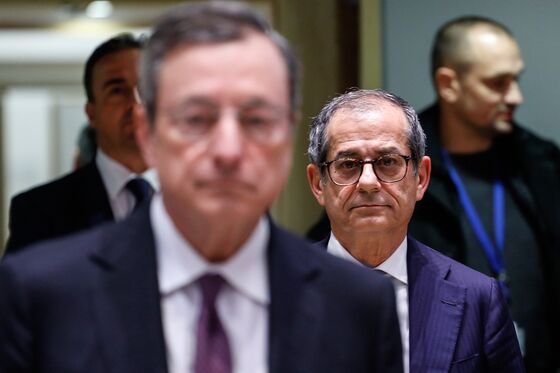 Brexit Endgame | Theresa May said negotiations with the EU have entered an "immensely difficult" endgame. That's a reference to disagreements over the post-Brexit Irish border, which will go a long way to dictating the U.K.'s future trading relationship with the bloc. But as opposition to the prime minister's plan builds on such a fundamental issue, she faces many more battles to come.
Missing in the Pacific | With Donald Trump staying home, Vice President Mike Pence found himself championing "America First" as annual Asian summits got underway in Singapore. En route, Pence criticized Japanese trade barriers during meetings in Tokyo with Prime Minister Shinzo Abe. As Jason Scott reports, Trump's absence would give China a freer hand to expand influence in the Pacific.
Democrat breakthrough | Kyrsten Sinema's win as a U.S. senator from Arizona broke a lot of barriers: she's the first bisexual, first female and first Democrat elected to the Senate in three decades from the state, which voted for Trump in 2016. The president's doing his best to avoid a similar setback in Florida, where a mandatory recount threatens Republican wins for governor and the Senate. "An honest vote count is no longer possible-ballots massively infected," he said on Twitter.
Collision course | Trump's hard line on immigration sets him on a collision course with the likely next speaker of the House, Nancy Pelosi, and the Democrats who won a majority in the midterm elections. The president has promised to try to end the constitutional guarantee of citizenship to anyone born in the U.S. through executive action and appears ready to spend the next two years testing the limits of his authority – in court if necessary.
Hidden threat | Research identifying 13 undeclared missile bases in North Korea provided the latest evidence undermining Trump administration claims that its outreach was getting Pyongyang to give up its nuclear weapons program. Senator Edward Markey, a Massachusetts Democrat who sits on the Foreign Relations Committee, said in a statement that Trump was "getting played by Kim Jong Un."
Trump's insistence that poor forest management by California is responsible for its deadly wildfires has fueled a backlash by officials who say it's misleading and ignores the fact that most of the public woodlands in the state are federally managed.

The president also took aim at Saudi Arabia's plan to cut oil production, injecting new tension into an already fraught alliance that has been clouded by U.S. concerns over the killing of Jamal Khashoggi and the war in Yemen.
​​​In case you missed: German Chancellor Angela Merkel and French President Emmanuel Macron got on so well at the Armistice commemorations in Paris that this 101-year-old woman thought they were married.
And finally …  For the first time in decades, a member of Tunisia's dwindling Jewish community has been given a cabinet position in the predominantly Muslim North African nation. The appointment of businessman René Trabelsi as tourism minister yesterday was part of a reshuffle the prime minister hopes will re-energize his government, which has been criticized for failing to turn around an economy hit by high unemployment and inflation.