It Only Took 24 Hours for Colossal Sentiment Shift: Taking Stock
(Bloomberg) -- You might be raising an eyebrow after checking your mobile this morning only to see the futures down.
Many would have guessed that "Netflix" was reason enough to think that the 59-handle melt-up in the S&P 500 on Tuesday would see a bit of follow through today (granted the QQQs are up 0.6%, naturally). And it's true that the Netflix blowout was important for general market vibes -- I previously called this report the most crucial company-specific catalyst for the week and perhaps all of third-quarter earnings season -- but the company stands on its own a bit when it comes to true read-across to the rest of the FAANGs or the tech complex.
That said, there has been a colossal shift in sentiment over the past 24 hours as this was the second straight day of more positively skewed earnings results than negative (Netflix +11% and on track to recoup all of October's loss, semicap equipment name Lam Research up ~7%, United Continental up ~6%, CSX +1%). This stands in contrast to what some may have expected coming into this week given the bevy of warnings, negative preannouncements, and margin misses over the past few weeks.
But we were up an exceptional amount yesterday -- biggest gain on the S&P 500 since March -- and some weakness in Europe (automakers fell on slumping passenger car registration data, large-cap health care name Fresenius plunged ~13% after cutting forecasts), several influential notes from the sell side that should hit sectors like the hardlines and the homebuilders, and U.S. indices inching towards some technical ceilings (can we hold the 2,800 level? next up is 100-day moving average at 2,824) could be the reason that the bounce stalls out, at least for the absolute very near term.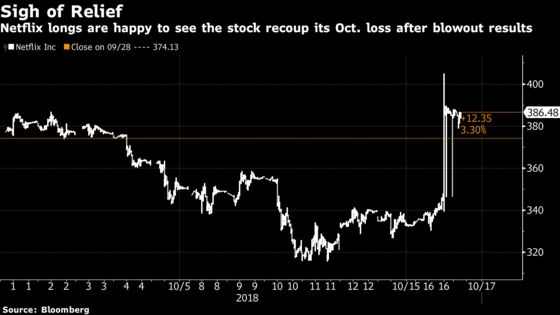 FAANGs, streamers like Roku and Spotify, and semiconductors should catch a follow-through bid after Netflix, Lam Research and ASML results, which could lift both tech and communication services sectors aside from IBM, which is off ~4% on a soft revenue and margin quarter
Transports on earnings from airline United (up 5.5%) and rail CSX (up ~1%)
RV stocks like Thor Industries after Winnebago's beat
Hardlines like Home Depot and Lowe's, truck machinery stocks, and the homebuilders on negative analyst notes (more on this below)
Pot stocks with Canada legalizing marijuana; see a quick look at the >1,000% ascent of some of the group's members leading up to the big day here, and note we'll have several companies on Bloomberg TV throughout the day (see calendar below)
Sectors that may move ahead of earnings tonight include heavy machinery (United Rentals), aluminum (Alcoa and Kaiser Aluminum), steel (Steel Dynamics), and the packagers (Crown Holdings)
It seems as though every sector and stock that has gotten smoked recently made a massive one-day reversal on Tuesday, for example the Russell 2000's 2.8% gain was its largest since the day after the 2016 election, the SOX and the NYSE FANG+ Index had their best days in over six months, while the momentum ETF catapulted ~3% with Square doing a complete 180 degree, closing up more than 20% from Thursday's trough.
Reasons for Tuesday's melt-up: 1) a deluge of positive reactions on the first heavy day of earnings, from the banks (Goldman, Morgan Stanley) to healthcare (UnitedHealth, J&J), ad name Omnicom and insurance biggie Progressive; 2) bullish guidance from Walmart, Adobe, and Marvell from their investor meetings; 3) better-than-expected eco data, namely industrial production, the JOLTS jobs data, and NAHB housing market figures; 4) another bounce in the Saudi stock market as tensions flare and uncertainties abound over the fate of journalist Jamal Khashoggi; 5) bullish comments from Blackstone's Byron Wien about a buying opportunity prior to the midterms thanks to a positive outlook for next year; 6) the return of tech leadership, with both S&P Info Tech and S&P Comm. Services among the best performing sectors on the day; 7) a further reversal in the VIX to under 18 vs ~26 on Friday; and 8) the power of technicals with the S&P 500 refusing to stay below its 200-day moving average for long.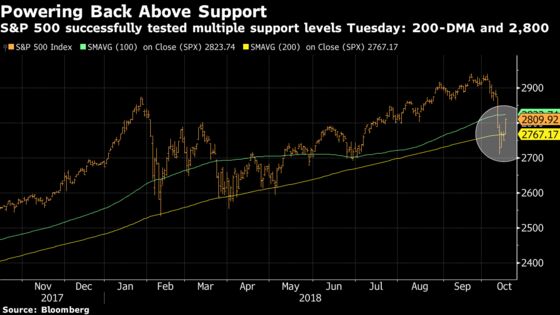 Notes From the Sell Side
Almost two-thirds of the 44 analysts who cover Netflix are breathing a major sigh of relief, given their bullish recommendations into a print that could have wreaked havoc if it disappointed on any major subs metric. We have a Street Wrap out detailing what some of the major players are saying, including the Keybanc downgrade ("investment efficiency trend must reverse to justify upside") and the plethora of price target boosts with Goldman to $480 and Morgan Stanley to $475.
Homebuilders might get hit today (what's new?) after Credit Suisse downgrades several of the stocks (KBH to underperform, LEN and MTH to neutral) as more tempered demand and rising affordability concerns should offset any near-term earnings beats. Separately, BTIG trims some price targets and estimates in the group after a monthly survey of private builders suggests caution in light of yesterday's better-than-expected housing data.
Consumer hardline bellwethers Home Depot and Lowe's were both downgraded to neutral at Credit Suisse on limited multiple upside.
BofAML says the global truck market has peaked and is downgrading Wabco (reports earnings Thursday) and CNH Industrial to underperform and neutral, respectively, as a result.
Deutsche Bank upgrades three airlines to buy, including United Continental after last night's top-line beat as well as American Airlines and Delta on better-than-expected fuel expense recapture.
And the frack sand companies may get slammed today after Jefferies slashes its ratings on four peers (Hi-Crush and Smart Sand to underperform, U.S. Silica and Covia to hold) amid sinking Northern White Sand demand and prices: "We see weakness spreading to regional/in-basin sand and ultimately to box/silo-based last-mile solutions as supply adds overtake demand growth."
Tick-by-Tick Guide to Today's Actionable Events
Today -- ARQL to present miransertib Phase 1/2 data
Today -- IPO lockup expiry: LEVL, PVTL
7:00am -- MBA Mortgage Applications
7:00am -- WGO earnings
7:30am -- NTRS earnings
7:45am -- ABT earnings
8:30am -- Housing Starts
8:40am -- Green Organic Dutchman CEO on Bloomberg TV
9:00am -- USB earnings call
10:00am -- NTRS, MTG earnings call
10:30am -- DoE oil inventories
10:30am -- UAL earnings call
11:00am -- MTB earnings call
12:10pm -- Fed's Brainard speaks on fintech and financial inclusion
1:30pm -- CSCO CEO Chuck Robbins on Bloomberg TV
1:40pm -- Aphria CEO Vic Neufeld on Bloomberg TV
2:00pm -- FOMC Minutes
2:00pm -- Tilray CEO Brendan Kennedy on Bloomberg TV
4:05pm -- SLG, KMI earnings
4:10pm -- AA earnings
4:15pm -- URI, CCI, UMPQ earnings
4:30pm -- KALU earnings
5:00pm -- AA earnings call
5:05pm -- CCK earnings (roughly)
6:00pm -- STLD earnings
Tonight -- IPOs to price: Studio City (MSC), SI-Bone (SIBN), Valtech (VLTHF), PhaseBio Pharmaceuticals (PHAS)