Istanbul's New Mayor Takes On Erdogan's Pet Canal Project
(Bloomberg) -- Istanbul's mayor, who's seen as a possible future challenger to President Recep Tayyip Erdogan, is trying to block one of the Turkish leader's pet projects in a possible foreshadowing of bigger political fights to come.
Mayor Ekrem Imamoglu held a news conference in Istanbul on Wednesday to detail the many professional objections to a multibillion-dollar canal bisecting Istanbul that's meant to siphon off shipping traffic from the busy Bosporus Strait linking the Black and Marmara seas.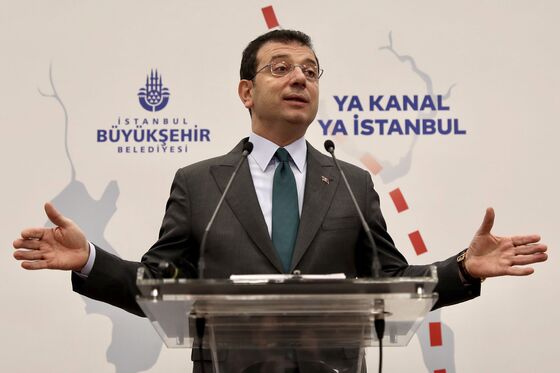 The 45-kilometer (28-mile) channel would "annihilate" water resources for Istanbul's 16 million residents, ruin the province's nature beyond repair and make it unlivable, Imamoglu told reporters in Istanbul.
"A project that excludes the residents of Istanbul can't function," Imamoglu said, vowing to use all legal means to block it.
Imamoglu has joined a long list of politicians and institutions criticizing the project, which Erdogan first announced in 2011. Critics say commercial ships can't be forced to take the alternative route, even if it were to be built at a great cost to taxpayers and nature. Comparisons with the Suez or Panama canals are meaningless, Imamoglu said, as Canal Istanbul wouldn't shorten vessels' travel time.
The mayor laid out a series of other objections drawn from scientists' reports. The project would require the destruction of two major artificial lakes that provide Istanbul's drinking water, as well as major aquifers that are a strategic source of fresh water in the event of war or natural disasters.
Imamoglu also cited the airports authority as saying in a 2018 report that the route would prevent the new airport from operating at full capacity. The authority retracted that report a few days later, saying it was published inadvertently.
Earlier this month, the World Wildlife Fund conservation group warned that the project would wreak serious ecological damage on forests and farmlands, and the seas it's to connect.
The government has completed technical studies and plans to put the project out to bid, Transportation Minister Cahit Turhan said last month, without giving a target date. During Erdogan's 17-year rule, Turkey has poured tens of billions of dollars into giant infrastructure projects, including the new Istanbul airport, a new bridge over the Bosporus and massive city hospitals.