Israeli Investment House Offers Crypto Funds for Institutions
(Bloomberg) -- Silver Castle Ltd., Israel's first dedicated cryptocurrency investment firm for institutional and accredited investors, launched two funds this month and expects to have $50 million under management by the end of the year.
The launch comes after a bad year for Bitcoin, which has fallen more than 70 percent from a record high last December. Currently there are more than 370 crypto funds managing as much as $10 billion in assets, according to Autonomous Research, a minute amount in the investment universe. That hasn't deterred Silver Castle.
"We spent close to a year building robust infrastructure for managing other people's money at the level of institutional grade with very, very high security," Chief Executive Officer Eli Mizroch said.
The company's lineup includes Zvi Ziv, former chief executive officer of Bank Hapoalim Ltd., Israel's largest bank by assets; and Gabriella Ravid, founder and former CEO of Psagot Ofek Investment House, the country's largest investment fund.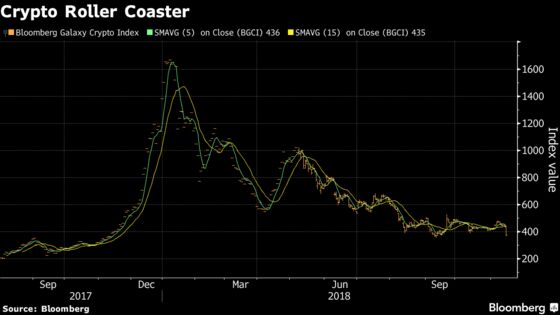 While most Wall Street players have stayed on the sidelines of the cryptocurrency craze, some -- such as Fidelity Investments -- are taking the plunge. The mutual fund giant decided in October to start a digital-asset serving business for hedge funds, family offices and trading firms, a move Mizroch said "is awesome for everybody."
Gadi Isaev, founding partner of the Israeli Blockchain Association, called Silver Castle's launch "a landmark event for the entire Israeli market," as its team is composed not just "of leaders of the Israeli financial industry, but its pioneers."
Israel's blockchain ecosystem was important in the group's building of the investment house, Mizroch said. The industry today numbers 129 companies, up from 42 in 2015, according to industry promoter Startup Nation Central. Forty initial-coin offerings have come out of Israel in the last few years, three of them among the 20 largest ever, Mizroch said.
Silver Castle's first fund is both long- and short- momentum driven, based on an algorithmic trading system that picks the five biggest coins by market capitalization. It has been used in-house for over a year and the portfolio has achieved "high double-digit" returns in dollar terms despite Bitcoin's plunge this year, Mizroch said.
The second fund is fully invested, automated and offers a basket of the top 10 coins, weighted according to an algorithm. A third, token-based fund that will launch by the end of the year will invest in ICOs.
"There is a lot of potential in using blockchain and everything is going to try and move there," said Ziv, who ran Bank Hapoalim for almost six years. "I believe herein lies the biggest potential in the financial world."
(An earlier version of this story was corrected to say Fidelity's unit is a servicing business.)