Israel's Richest Woman Sells $386 Million of Hapoalim Shares
(Bloomberg) -- Shari Arison began cutting back her stake in Bank Hapoalim Ltd., which will change the ownership structure and no longer make her the controlling shareholder in the country's second-biggest bank. The shares sank the most in seven years.
The investment arm of Israel's richest woman sold 57 million shares in the lender for a total consideration of nearly 1.43 billion shekels ($386 million), according to an emailed statement. The tranche, which represents 4.3 percent of Hapoalim's outstanding shares, was sold at 25 shekels per share, or 5.7 percent less than Monday's closing price.
After the sale is completed, Hapoalim will operate without a controlling shareholder, similar to other large Israeli lenders. Arison is effectively forfeiting her rights to nominate board members, paving the way for potential leadership changes. It comes as Israeli regulators consider tweaking rules to encourage investment houses to propose directors at the banks in a bid to induce shareholder activism among money managers.
The Israeli billionaire intends to liquidate her 20 percent holding in the lender over the coming years. Bank of America Corp. and Citigroup Inc. were the lead underwriters for the sale, which will be settled on Nov. 22, according to the statement.
Long the country's largest lender, Hapoalim this year slipped behind its rival Bank Leumi Le-Israel Ltd., which isn't constrained by a costly U.S. investigation into alleged tax evasion. While Hapoalim's management trudges along in its dealings with American authorities and frets about the size of the fine it will face, Leumi has been free to pursue growth and allocate capital for new loans.
Click here to read more about Bank Leumi's buyback plan
Hapoalim froze dividend payments for a second straight quarter last week, just two days after Leumi told investors it may embark on another share buyback.
Nevertheless, there was healthy demand for Hapoalim shares. Arison boosted the size of the share bloc by 14 percent in response to investor feedback. About 30 percent of the buyers were institutional investors from the U.S. and Europe, according to a person familiar with the matter. A spokesperson for Arison declined to comment.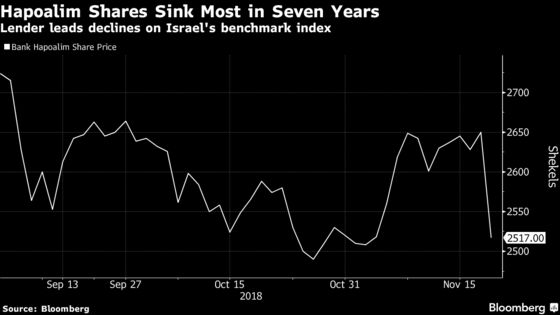 Hapoalim's shares fell as much as 5.3 percent, the most since November 2011. The stock was down 5 percent at 25.17 shekels as of 11:53 a.m. in Tel Aviv, valuing the lender at 33.6 billion shekels.