Netanyahu Asked to Form Government With Few Signs He Can Succeed
(Bloomberg) -- Benjamin Netanyahu was tapped to form Israel's next government, with no clear indication he'll be able to pull that off and end months of political stalemate.
The decision late Wednesday by President Reuven Rivlin to hand Netanyahu first crack at building a coalition in parliament grants the Israeli leader a political lifeline just a week before he faces a crucial hearing on the corruption allegations that have clouded the last three years of his tenure.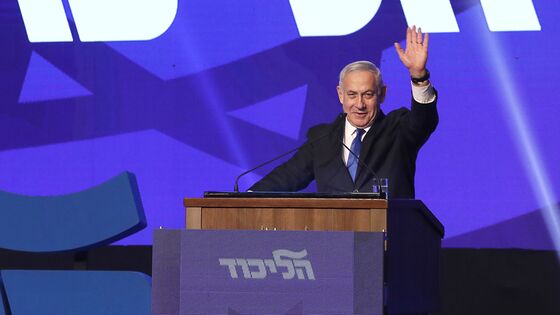 "Netanyahu's ability to form a government is higher at this moment," Rivlin said at a news conference in Jerusalem.
Netanyahu's Likud party slightly trailed former military chief Benny Gantz's Blue and White in the Sept. 17 election, but he had the slimmest lead when factions were asked to recommend their choice for premier. In the eight days since the election, no visible progress has been made toward ending the political impasse it produced.
Rivlin attempted to glue the two big parties together in a power-sharing deal, but his failure to do so forced him to choose one man over the other. Netanyahu said after he was chosen that he "will do all I can" to form a broad national unity government, but Gantz rejected the notion out of hand.
"Blue and White doesn't agree to sit in a government whose potential leader is facing a serious indictment," Gantz said in a statement.
If Netanyahu fails to put together a government, Rivlin will turn to Gantz or someone else. The prime minister will have at least four weeks, and possibly six, to try to complete the task.
The lack of a decisive victory undercut the aura of invincibility that Netanyahu had promoted. To build a parliamentary majority, he'll either have to clinch a power-sharing pact, peel off lawmakers from the opposing camp or win the endorsement of former Defense Minister Avigdor Liberman, whose refusal to join his coalition after an April election catalyzed the election do-over. Liberman hasn't lined up behind anyone so far.
"It's all or nothing for Netanyahu," pollster Mitchell Barak said. "Either he succeeds and he's the prime minister in an unprecedented victory or he fails and he's out of politics."
Israel has been gripped by political turmoil since Netanyahu first dissolved parliament in December, then disbanded it again after coalition talks following the April 9 election collapsed over Liberman's insistence on scaling back ultra-Orthodox military draft exemptions.
The policy paralysis that's ensued is liable to continue through the end of the year as diplomatic and regional security challenges mount -- and Netanyahu faces the prospect of being brought to trial.
Next week, Netanyahu will try to persuade Attorney General Avihai Mandelblit to back away from his plan to indict the prime minister in three corruption cases. The Israeli leader claims he's the innocent victim of a political witch hunt by leftists and journalists bent on thwarting his nationalist agenda. He wouldn't have to step down if charged, only if he's convicted and has exhausted all avenues of appeal.
Netanyahu's legal entanglements have given him added incentive to stay in power: He's been trying to push through a new law that would shield an incumbent leader from prosecution, and the coalition-building fiasco got in the way. His hearing before Mandelblit is scheduled for two days beginning Oct. 2, and Israel television reported that the attorney-general is angling to render a decision sometime in November.
The Israeli leader received expensive gifts from wealthy businessmen and is accused of reshaping the country's communications landscape to benefit a media mogul to win sympathetic coverage. If he manages to build a coalition, the distraction of criminal charges could badly hamper his ability to govern.
Back-to-back elections have already held up the Trump administration's release of its blueprint for Middle East peacemaking and delayed efforts to narrow Israel's widening budget deficit. Meanwhile, Iran and its proxies in Lebanon, Syria and the Gaza Strip are posing continuing challenges to Israel's security.