Israel-Hamas Conflict Rages as Unrest Spreads Back to West Bank
(Bloomberg) -- Israeli airstrikes on the Hamas-run Gaza Strip had continued on Tuesday, with Defense Minister Benny Gantz saying his military has "thousands more attack targets" as unrest again spread to the West Bank.
Two foreign workers were killed meanwhile by a mortar barrage fired from Gaza that slammed into a plant in southern Israel, bringing the overall death toll inside Israel to 12.
The Israeli military kept up its airstrikes on the tiny Palestinian enclave, where Gaza Health Ministry officials say 217 people have been killed, including dozens of civilians.
Israel's Arab citizens joined Palestinians in a labor strike to protest the onslaught in Gaza and Israel's conduct in Jerusalem. The holy city is at the heart of conflicting sovereignty claims, and clashes between Palestinians and Israeli security forces there prefaced the conflict that broke out May 10.
Thousands turned out for protests across several West Bank cities, and three Palestinians were killed in skirmishes with the Israeli military. More than 70 were wounded, according to the Palestinian Authority Health Ministry.
Israel's Channel 12 reported Tuesday that Hamas had agreed to an Egyptian cease-fire proposal that would start Thursday at 6 a.m. but that there had been no response from Israel yet. Fawzi Barhoum, a Hamas spokesman in Gaza, told reporters at Shifa Hospital in Gaza City that he "can't deny or confirm the report," while the Israeli prime minister's office had no comment.
Diplomatic efforts intensified as the violence persisted.
U.S. Secretary of State Antony Blinken embarked on a flurry of talks with counterparts from around the world to seek an easing of the conflict, including calls with the foreign ministers of Egypt and the United Arab Emirates.
"We are engaged in a quiet but very intensive diplomacy in an effort to deescalate and end the violence and then hopefully move on to build something more positive," Blinken said Tuesday during a visit to Iceland.
French President Emmanuel Macron, Egyptian President Abdelfattah El-Sisi and Jordan's King Abdullah II spoke by video-conference, and European Union foreign ministers also met to support the efforts. United Nations diplomats met again on Tuesday though the U.S. has so far objected to a statement calling for a cease-fire.
On Monday, U.S. President Joe Biden told Prime Minister Benjamin Netanyahu he'd support a cease-fire between Israel and Hamas after days of calling for calm but not publicly seeking an end to the conflict, a shift in the U.S. approach to the crisis following days of rising criticism.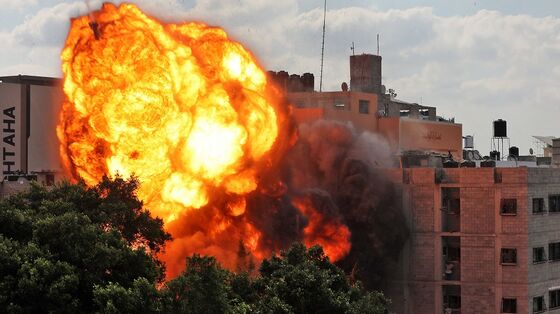 "The president's objective is clear, which is that he wants to see an end to the violence on the ground and to the suffering of the Israeli and Palestinian people," White House Press Secretary Jen Psaki told reporters Tuesday.
Psaki also appeared to put some blame for the crisis on the Trump administration, which cut aid to the Palestinians and took other steps -- such as moving the U.S. embassy to Jerusalem -- that angered Palestinian officials. She said more needed to be done to promote a "two-state solution," a long-sought goal of peace talks on which former President Donald Trump wavered.
"We are not following the same tactics as the prior administration," Psaki said. "The president has reinstated humanitarian assistance and security assistance to the Palestinians. That's something that was stopped back in 2018 and we felt was not a constructive action by the prior administration."
Biden's support for a cease-fire adds pressure on both sides to end a conflict that's seen militants fire more than 3,100 rockets and Israel pummel Gaza with airstrikes and artillery.
Israel Economy Shrinks in First Quarter Due to Third Lockdown
The economic toll is mounting as the violence drags on. Egypt pledged $500 million for Gaza reconstruction work to be carried out by Egyptian companies.
Jonathan Katz, economist at Israel's Leader Capital Markets, estimated the conflict has so far cost Israel as much as $1.5 billion, a major drag on the economy, which saw output shrink 6.5% in the first quarter, rather than grow 3.2% as forecast in a Bloomberg survey, largely due to coronavirus restrictions.