Israel Focuses on Vaccine Boosters as Virus Variant Spreads
(Bloomberg) -- Israel is focused on rolling out vaccine booster shots and the country will need a few weeks to reconsider lifting a travel ban on incoming foreigners, the chairman of the country's Covid-19 advisory team said.
Israel identified its first case of the new omicron coronavirus strain last weekend and now has two cases in isolation, Ran Balicer told Bloomberg TV on Tuesday. The country has banned non-citizens from entering Israel for 14 days without special permission, and authorized the Shin Bet security agency to track infected people.
Balicer said it was too early to share data on omicron but current vaccines would continue to offer protection.
"It is likely that even if the vaccine takes a hit in its ability to prevent infections, I think that it will -- at least our working hypothesis -- have residual ability to protect from severe illness, especially after the full regimen of three doses," Balicer said, echoing previous assessments. 
"It is the best protection that we currently have, and will have in the coming months," he said, adding that pushing for boosters in Israel should be the priority. "We are making every effort to refrain from another lockdown in Israel."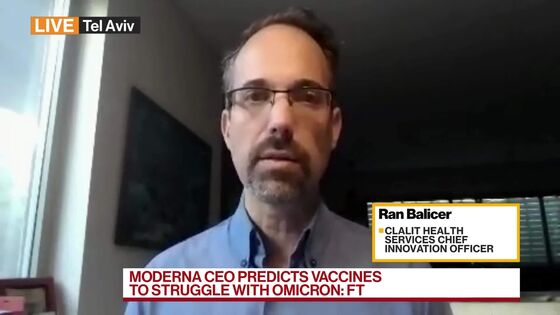 Scientists in South Africa, where omicron was first detected, said the variant appears to spread more easily than previous strains. The World Health Organization assessed omicron's risk as "extremely high" and called on member states to test widely. Understanding the new strain will take several days or weeks, the agency said. 
For now, Israel has yet to see a significant rise in coronavirus cases and the number of patients in hospitals continues to decline. The country quickly contained a fourth wave of the virus after a widespread rollout of booster shots. More than 70% of people older than 50 have gotten a third dose. 
Israel began inoculating children between five and eleven years last week. About 3% of the age group has received the first jab, according to Health Ministry data on Monday. Balicer, who is also chief innovation officer at the Clalit health care service, said the uptake among children was faster than expected.