Is South Africa's New Finance Chief a Counter to the Country's Populist Push?
(Bloomberg) -- South Africa's new Finance Minister Tito Mboweni is emerging as a counter to calls from within the ruling party and the radical opposition Economic Freedom Fighters for the government to implement a raft of populist policies, including land seizures and curbs on the central bank's independence.
Appointed to his post two weeks ago, Mboweni presented his first mid-term budget on Wednesday, in which he pledged to stick to spending limits and warned that debt levels and the government's wage bill are spiraling out of control. He also defended the South African Reserve Bank and its inflation-fighting mandate, and cautioned that distributing land to people who didn't know how to farm could harm food production.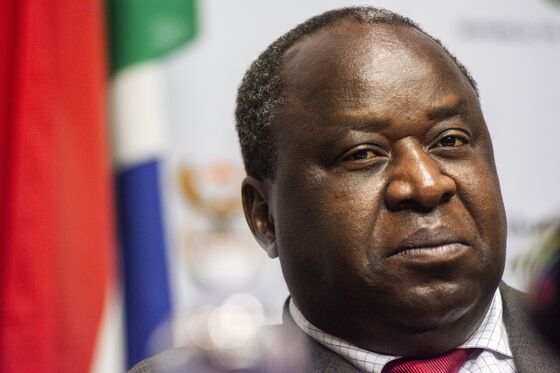 "Mboweni has been refreshingly blunt on issues like the need for expenditure constraints, sensible land policy and an independent central bank," said Peter Attard Montalto, head of capital-markets research at Intellidex. "He appears determined to be his own master and calling out issues as he sees them."
Mboweni, a 59-year-old economist, has the political clout to speak his mind.
He sits on the African National Congress's National Executive Committee, one of its highest decision-making structures, served for four years as Nelson Mandela's labor minister and then for a decade as governor of the central bank before going into business.
Mboweni's other comments since President Cyril Ramaphosa named him as his finance chief on Oct. 9 in place of Nhlanhla Nene include:
The government spends a disproportionate share of the budget on wages and difficult discussions need to be held with labor unions to bring the situation under control.
State power utility Eskom Holdings SOC Ltd. is over-staffed and may need to fire 30,000 people.
Consideration should be given to selling stakes in some state-owned companies and closing others.
Private companies can play a bigger role in services previously provided solely by the state.
South Africa needs clear and consistent policies to attract investment and the government needs to stop talking in contradictory terms.
Levels of corruption are unacceptably high and must be addressed, and the government must use its revenue more effectively.