Dam Ruptures At Brazilian Iron Mine, Echoing 2015 Disaster
(Bloomberg) -- A tailings dam owned by miner Vale SA broke in the state of Minas Gerais on Friday, causing destruction to communities near the capital and echoing a similar accident that became Brazil's biggest environmental disaster three years ago.
Some 300 Vale workers were on site when the dam burst, and only about 100 have been accounted for, Chief Executive Officer Fabio Schvartsman told reporters in Rio de Janeiro on Friday. Seven bodies have been recovered so far, according to the Minas Gerais state government. Footage from local television showed a wasteland of mud that buried houses and cars as it flowed from the mining site, with helicopter crews pulling victims from the mining sludge.
"Vale workers themselves were the main hit. We had a restaurant that was buried during lunch time, as well as some administrative buildings," Schvartsman said at Vale's headquarters in Rio de Janeiro. "We're talking about a large number of victims."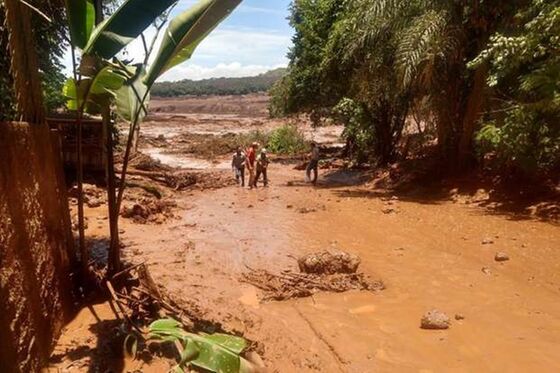 President Jair Bolsonaro intends to visit the disaster zone on Saturday, according to a spokesman. Earlier, the president said he had sent a team of high-ranking officials to the area, including the ministers of environment, and mines and energy. "Our biggest concern at the moment is to attend to possible victims of this serious tragedy," he posted on his twitter account.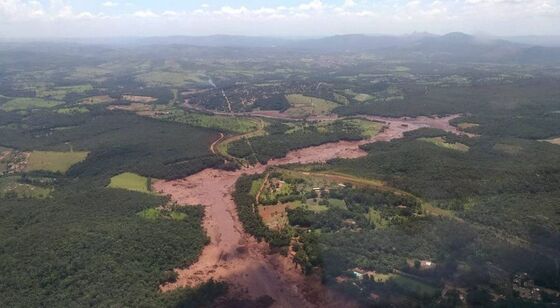 Schvartsman said Vale is investigating the causes of the accident and that the company had doubled down on security after the similar accident in 2015, adding that the dam had been audited by an outside firm.
Vale's ADRs fell as much as 14 percent in New York. Shares of the company weren't trading in Sao Paulo due to a local holiday. Vale's bonds due in 2022 fell to the lowest price since 2017.
S&P Global Ratings placed Vale SA and its subsidiaries on CreditWatch with negative implications, saying in a note the company could face fines and the possible loss of its license over the dam failure. S&P may downgrade Vale by as much as several notches depending on the impact of the accident, according to the note.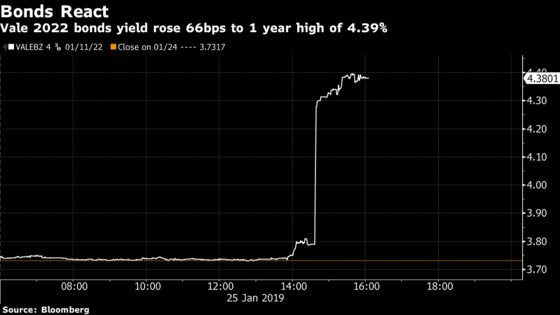 The failed dam serves the Feijao mine, one of Vale's smaller operations that produced 7.8 million tons of iron ore in 2017, according to the company.
In Brazil's largest-ever environmental catastrophe, another tailings dam collapsed near the municipality of Mariana, also in Minas Gerais state, in November 2015. It spilled the equivalent of 25,000 Olympic swimming pools of toxic mud that destroyed entire towns, contaminated waterways and resulted in 19 deaths. The dam was owned by Samarco, a joint-venture between Vale and BHP Group Ltd.
While the images of mud burying houses and cars are reminiscent of the 2015 disaster, the scale should be quite different. The Samarco dam spilled about 55 million cubic meters into the surrounding environment, while the dam that burst Friday was holding about 12 million cubic meters of mining waste.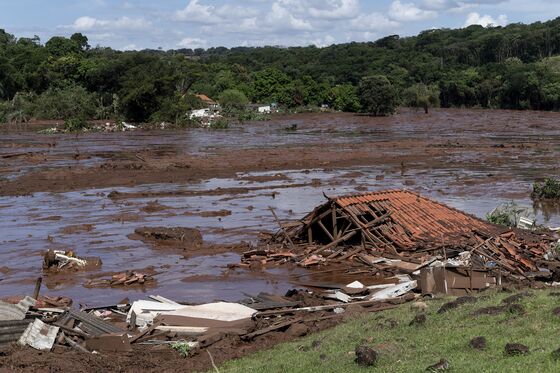 "The type of waste is similar to Mariana's, but the volume is significantly lower," said Katia Visentainer, a spokeswoman for a committee that gathers 110 groups advocating for greater mining regulation. "Also, the Mariana disaster happened during a raining season, which augmented its impacts. It's not the case now."
What Our Analyst Says: 
"At first glance, it appears the dam failure at the company's Corrego de Feijao (about 7-8 million tons of production) won't be Samarco 2.0. We estimate the mine produced about $300-$350 million of Ebitda. The market is saying Vale will be on the hook for over $4 billion after taking into consideration almost $6 billion loss in market cap and a 5x multiple on Ebitda at the mine. That number seems high (for now) given the total cash outlay between both Vale and BHP Billiton for the Samarco disaster has totaled $3.3 billion." 
--Andrew Cosgrove, BI Senior Analyst
Samarco has not been able to restart operations for more than three years after the accident. The Feijao mine belongs to a bigger system of Vale-operated mines, which may also come under greater scrutiny in the wake of Friday's spill. The 2015 spill came at a time when Vale and other major iron ore miners sought to increase production and squeeze out competition.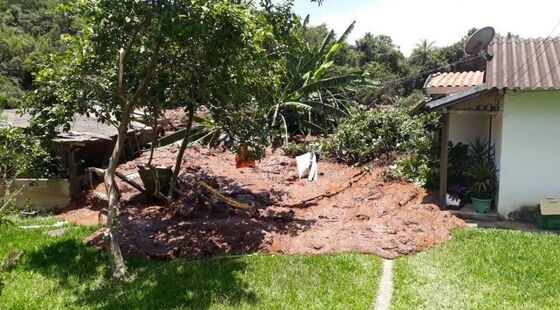 Vale's reliance on its mines in Minas Gerais has dwindled in recent years as it focuses on its lower-cost, high-grade reserves situated in the Amazon rainforest. The Rio de Janeiro-based company has not even finished ramping up its crown jewel project there, known as S11D, and already has plans to expand the original planned capacity.