IRobot Is Under Mounting Woes as China Tariffs Hurt U.S. Growth
(Bloomberg) -- IRobot Corp.'s outlook for the year turned murkier after the Roomba maker's domestic sales were once again caught up in the U.S. trade war with China, which weighed on results for a second straight quarter. U.S. sales account for about half of IRobot total revenue.
The robot manufacturer reduced its revenue forecast for 2019 and said recently-increased tariffs could weigh on gross margins in 2020, sending shares tumbling to their lowest level in over a year Wednesday. The stock is down about 45% since IRobot reported first-quarter revenue in April that missed expectations for the first time since 2015.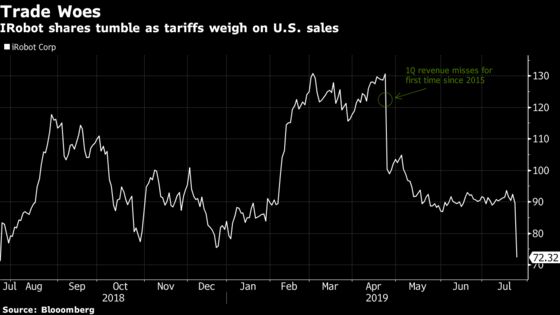 The lowered guidance and softer-than-expected results for the second quarter "will likely leave investors concerned until demand stabilizes," Canaccord Genuity analyst Jed Dorsheimer wrote in a note to investors.
Citi said it would revisit its model after IRobot's Wednesday morning conference call, with analyst Asiya Merchant highlighting several key questions in a note, including the impact of Amazon orders shifting to the fourth quarter and growth expectations for robotic lawn mowers.
The stock was up 56% for the year before starting its downward spiral in the wake of the weak start to 2019. IRobot is now trading about 33% below the average price target, and Wall Street remains decidedly neutral, with eight of the nine analysts tracked by Bloomberg rating IRBT the equivalent of a hold.